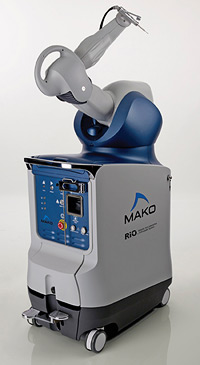 Inova Fair Oaks Hospital and Inova Loudoun Hospital are among only a select few hospitals in the region offering MAKOplasty® robotic-assisted total hip and knee replacements.

The MAKOplasty® robotic technology improves accuracy, allows the surgeon to make adjustments for muscular and soft tissue alignment, and yields better outcomes for patients undergoing partial or total hip and knee replacements.
Who Benefits from MAKOplasty®?
MAKOplasty® for partial or total hip and knee replacements may be an appropriate treatment option for those patients living with osteoarthritis of the hip or knee (learn more about this osteoarthritis). Typical MAKOplasty® patients may share the following characteristics:
Hip or knee pain that occurs with activity; for knee pain, it is usually on the inner knee or under the knee cap
Start up knee pain or stiffness when getting up from a sitting position
Failure to respond to non-surgical treatments or non-steroidal anti-inflammatory medication
Benefits of MAKOplasty
Partial knee resurfacing and total hip and knee replacements utilizing MAKOplasty® technology allows for:
Optimal implant positioning to result in a more natural-feeling hip or knee following surgery
The procedure may be performed on an outpatient basis, resulting in a much shorter hospital stay than traditional hip or knee replacement surgery requires
More rapid relief from pain, a faster recovery and a quicker return to day-to-day activities
How MAKOplasty for Partial Knee Replacements Precisely Targets Damaged Tissue
A major benefit of partial knee resurfacing is that your orthopedic surgeon can selectively target the damaged portion of the knee without compromising the remaining healthy bone and tissue. The precision of robotic-arm technology helps isolate and resurface only the arthritic part of the knee without replacing the entire knee joint. An implant is then optimally positioned in the knee joint to allow the knee to move smoothly again.
MAKOplasty services are part of Inova's Musculoskeletal services program, which includes the full range of care in orthopedics, sports medicine, physical therapy (PT) and rehabilitation.