Inova knows that accessing information from a mobile device is essential, particularly since the Washington, DC area has been identified as the most mobile-connected community in the US. Not only is inova.org completely readable on mobile devices, Inova also offers the following free mobile applications.
The Inova App – Includes ER Wait Times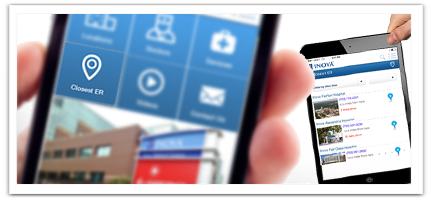 Whether you are looking for the closest and most accessible emergency room or the right physician for your health needs, the Inova app offers a variety of features to help make your visit easier and is available for both iPhone and Android devices.
The new app allows you to:
Estimate drive times to Inova's emergency rooms and hospitals based on current location and traffic
See and compare wait times at our emergency rooms as well as at our urgent care centers
Check in to a convenient urgent care facility
Find a doctor or provider by name, keyword, specialty and location
Schedule an appointment
Easy access to MyChart login
Learn about Inova's healthcare services from A-Z
View Inova's extensive library of health-related video content
Contact Inova with just a touch of your finger


MyChart App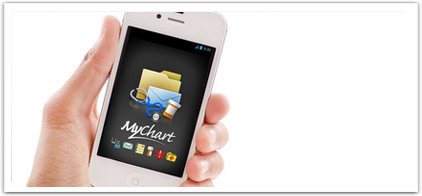 Use your existing MyChart account to manage your health information and communicate with your doctor on your mobile device. MyChart gives you access to your lab results, appointment information, current medications, immunization history, and more on your mobile device.

With MyChart you can:
Request medical appointments with your primary care provider
Use eCheck-in to check-in to you appointment prior to your visit
View your health summary from the MyChart electronic health record
View test results
Request prescription renewals
Access trusted health information resources
Communicate electronically and securely with your provide
You must first create an account through your healthcare provider in order to access your information through MyChart. If your healthcare provider is not listed, or if you require support accessing your existing account, contact them directly about accessing your account through the MyChart app.

Available for both iPhone and Android devices.


MedApp Tracker App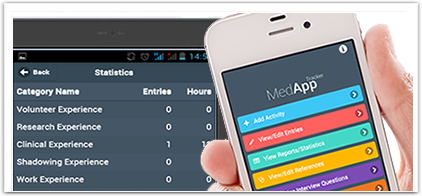 MedApp Tracker is specifically designed to help medical school applicants navigate – and succeed on – the road to med school. It is never too early to start creating experiences that will make you a better applicant. Keep track of all your activities with this app.

MedApp Tracker gives you:
An overview of the key activities that will make you a more competitive applicant for medical school
A simple method for keeping track of all your extracurricular activities
Over 50 practice questions for traditional or behavioral medical school interviews
A reporting system which is easy to navigate
An option to create a cumulative list of references based on your entries
A backup process to ensure that your data stays with you, even if you change devices