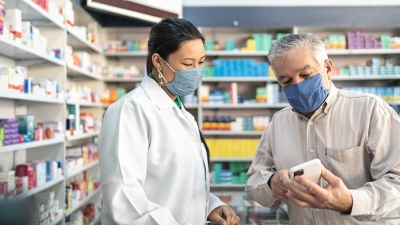 Begin Your Career in Pharmacy
Inova's Pharmacy Technician Training Program offers hands-on experiential training, a lecture series and Pharmacy Technician Certification Board (PTCB) exam preparation for individuals interested in pursuing an entry-level career in pharmacy.
No pharmacy experience or licensure is required – minimum requirements are a high school diploma or GED.
Earn while you learn – enjoy full-time benefits and pay during your training.
Continue your career as a full-time pharmacy technician 1 at an Inova hospital, retail or specialty pharmacy upon completion of the program and PTCB certification.
For certified pharmacy technicians with limited or no hospital experience, successful completion of this program can serve as the necessary experience to be hired as a pharmacy technician 1 at Inova.
What You'll Learn
Lecture and hands-on workshop topics covered in the 10-week program will include:
Basic pharmaceutics
Basic anatomy and physiology
Vaccines
Pharmacology
Pharmacy operations
Billing
Special medication handling
Inventory control
Emergency preparedness
Sterile and nonsterile compounding
Unit-dose packaging
Communication and calculations
About Inova Pharmacy Services
Inova's pharmacy department serves Inova's expansive network of inpatient and outpatient care sites. A dedicated team of more than 450 pharmacy technicians, pharmacists, clinical pharmacists and support staff work in one of 12 pharmacy settings including hospital, infusion, retail and specialty pharmacies. Cutting-edge technology and equipment, such as automated dispensing cabinets, medication storage carousels and IV robots, are used across the system.
Education and research is a focal point. Inova provides a pharmacy technician training program, offers seven residency programs and partners with multiple schools of pharmacy. Satellite campuses for Virginia Commonwealth University and Shenandoah University reside on the Inova Fairfax and Inova Center for Personalized Health medical campuses.
Stay Connected!
To learn more about the Inova Pharmacy Technician Training Program or to speak with a recruiter, please complete the form below.