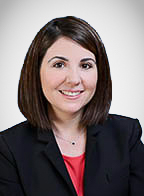 Aline Baghdassarian, MD, MPH, FAAP
Program Director
The Altieri Pediatric Emergency Medicine Fellowship
Thank you for your interest in the Altieri Pediatric Emergency Medicine fellowship program at Inova Children's Hospital.
Our program's goals align with the Inova Mission statement to "provide world-class healthcare – every time, every touch – to each person in every community we have the privilege to serve."
We provide our learners with the individual support and environment necessary to achieve their full potential and develop their academic interests, hone their skills in education, research and leadership.
We foster a collegiate and positive work environment, where fellows are an integral part of the Emergency Department team. We emphasize the quality of our patient care and experience just as we prioritize the wellness of our team members.
Located 15 miles from downtown Washington, DC, we have the privilege to serve a culturally and socioeconomically diverse spectrum of patients from across the globe.
We consider it a privilege to contribute to your training and educational journey. We believe that adult learners are self-directed and motivated. It's our responsibility to be the catalyst to help you achieve your goals. We greatly value teams and teamwork and look forward to having you join ours. We hope you will continue to explore the various opportunities that we offer our fellows and learn about life in the Washington, DC, metropolitan area.
During these unprecedented times, we're committed to your safety and that of our team members. For this reason, our interview process will be carried out virtually. We understand that this will be a challenge, for this reason, we will do our best to be available to you for questions and clarifications, should those be needed to supplement the information we share with you.
Sincerely,
Aline Baghdassarian, MD, MPH, FAAP
Program Director
---