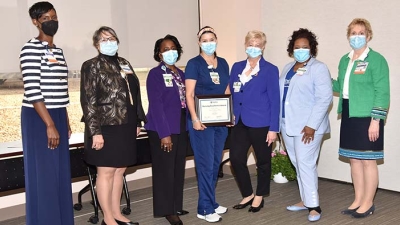 Inova Mount Vernon Hospital
Welcome from Alquietta Brown, Chief Nursing Officer
At Inova, our mission, vision and values are at the core of all we do. They are not just words on a page or written on a wall. Our nurses embody Inova's mission to provide world-class healthcare – every time, every touch – to each person in every community we have the privilege to serve. Our vision and values drive decision-making and care delivery throughout the organization. Inova Mount Vernon Hospital nurses not only care for our patients and community with kindness and compassion, they are also leaders committed to providing and supporting care across the continuum.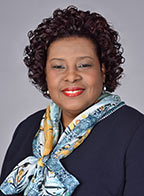 Nurses at Inova Mount Vernon Hospital are accountable to plan, implement and evaluate evidence based strategies, which optimize quality and safety outcomes. We are proud to see their contributions to patient care represented in a variety of venues including poster presentations, podium presentations and publications.
2020 was a tremendous year for our nurses, who courageously stepped into an uncertain space and cared for our community's sickest patients. Our nurses stood on the front line of the COVID-19 pandemic, navigated new procedures and processes, and established new standards. Through all the challenges, our nurses' commitment to our mission, vision and values remains steadfast. I have never been more proud of our nurses as they met this challenge with an extraordinary level of commitment, resilience, and support for our patients, their families and our community. I am privileged and humbled to serve with these incredibly talented men and women.
Alquietta Brown, PhD, MHSA, BSN, RN, NEA-BC
Chief Nursing Officer, Inova Mount Vernon Hospital
---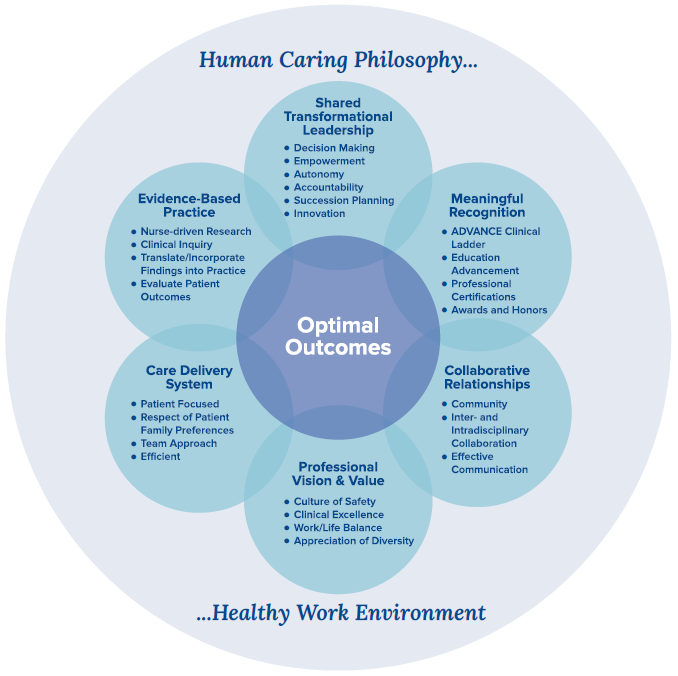 Nurses at Inova Mount Vernon Hospital are teachers, servant leaders, facilitators, consultants, change agents, coaches, researchers, clinical experts, and motivators. As one team, we inspire and empower our nurses to perform at the highest level of professionalism and to achieve and validate skills and confidence through engagement and feedback.
We have our finger on the pulse of nursing inside and outside our organization, bringing new ideas and approaches that elevate nursing practice.
Our team orients, mentors, encourages, and guides transition to nursing practice at all levels at Inova Mount Vernon Hospital, including:
New graduate nurses
Nurses changing specialty
New-hire proficient nurses
New nurse leaders
APRN transition to practice
Inova Nursing Aspiration
Inova nurses aim to be the most trusted nurses in the nation.
Nursing Annual Report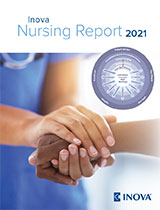 Download the Inova 2021 Nursing Annual Report for updated statistics, innovation highlights and more from around Inova Health System. 
Download Report
Advancing Excellence and Growth in Nursing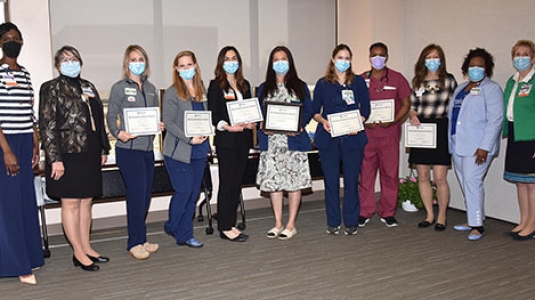 Teaching
Clinical nurse educators collaborated with an interdisciplinary team to host COVID-19 educational seminars. Staff at all levels enhanced their knowledge and understanding of ever-changing COVID practices.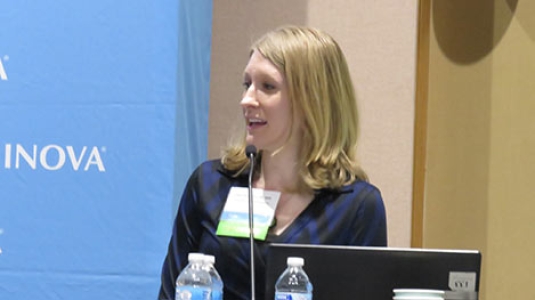 Presenting
Clare Davidson, BSN, RN, presented results of her EBP project examining the impact of a structured discharge teaching program for acute care rehab patients at the 2017 Inova Nursing Research and Evidence-Based Practice (EBP) Symposium. Her team's poster was named best at the event.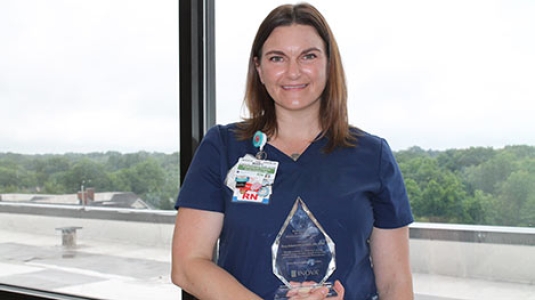 Deserving
Mary Jobson-Oliver, BSN, RN, SCRN, received the 2021 Barbara Mancini Excellence in Neuroscience Nursing award. Mary helped IMVH achieve recertification as a Primary Stroke Center in 2020, and assisted during the height of COVID-19 by returning to bedside nursing.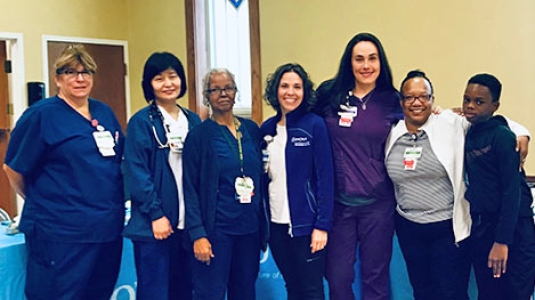 Giving
IMVH nurses provide free health screenings in the community throughout the year. Community health fair participants, left to right: Susan Breisch, MSN, RN-BC, CCRN; Xiaoguang Li, BSN, RN, CBIS; Tadu Tsegaye, BSN, RN-BC; Lauren Schwabish, MS, CCC-SLP; Dana DiMattia, MS, CCC-SLP; Merrion Mason, BSN, RN; plus one future leader.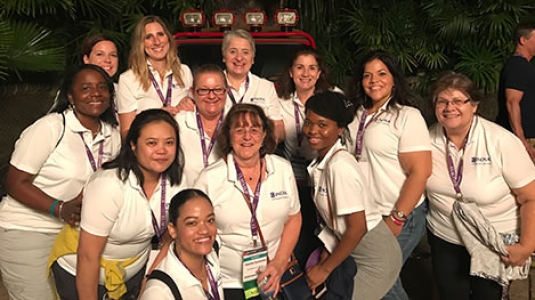 Learning and Growth
IMVH nurses learn about best practices and creative approaches to problem-solving at the 2019 ANCC National Magnet Conference® in Orlando.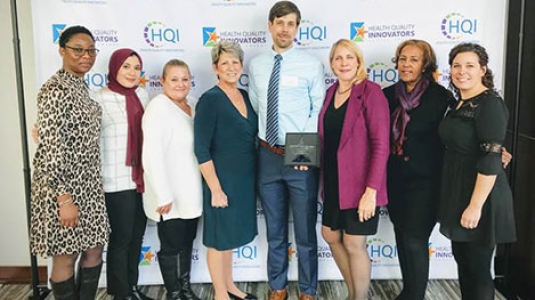 Advancing Patient Care
IMVH nurses were runners up for the 2019 Health Quality Innovators of the Year for their work on sepsis management. Pictured: Kudirat Abdulsalam, BSN, RN, CCRN; Soha Salihi, BSN, RN; Ashley Webber, BSN, RN, CEN, TNCC, ENPC; Kathy McNamara, MSN, RN-BC, NE-BC; John Lawrence, BSN, RN, SCRN; Larisa Golding, MSN, RN; Zewdensh Bryant, MSN, MS, RN; Jenna Tomajko, BSN, RN-BC, RN.
A Reputation for Excellence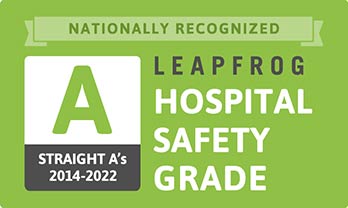 Inova Mount Vernon Hospital is a nationally recognized, advanced community hospital offering patients convenience and state-of-the-art care.
Home to both the renowned Inova Joint Replacement Center and Inova Rehabilitation Center, we are ranked among the top orthopedic and rehabilitation programs in the country. Inova Mount Vernon is also the administrative and clinical home of the Inova Wound Healing Center, the region's largest and most experienced.
Making a Difference
Meet a few of the Inova Mount Vernon Hospital nurses impacting the lives of our patients and healthcare.
Ryan Bautista, BSN, RN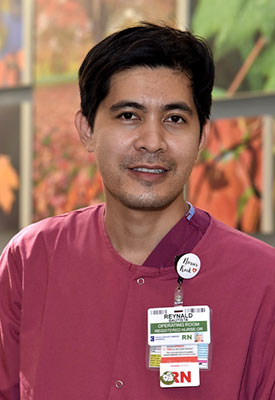 Ryan Bautista has been an OR nurse for more than six years, working in many settings within the operating room. No matter where he works – as a circulating nurse or scrub nurse – he is a relentless advocate for patient safety. His colleagues and patients say he reviews charts like an investigator at a crime scene and is always ready to speak up for his patients. Ryan took it upon himself to organize educational programs for staff on topics such as infection control, safety and general surgery procedures so the team is always aware of the latest advances in healthcare operations. His diligence, attention to detail and advocacy earned him an Inova Nurse Excellence award in 2021 in the category of Exemplary Professional Practice.
Jaime Cypress, RN, CEN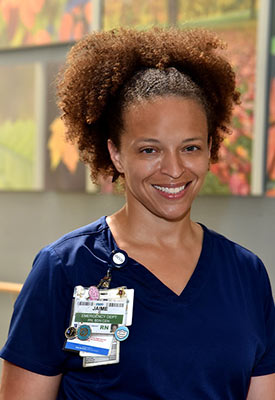 During the past year, ER charge nurse Jaime Cypress volunteered to be the Falls Champion for her unit. She partnered with other organizations to ensure the latest evidence-based practice was in place for patients, and single-handedly worked with Epic to add a "Fall Score" column to the ER tracker board to better identify patients at high risk. She also collaborated with our ER unit council and other members in the department to implement falls bundles, which include "high fall risk" door signage, bed alarms, no-slip socks, armbands and more. Evidence shows that implementation of these bundles can reduce the risk of falls within the ER. Jaime recently earned her Certified Emergency Nurse (CEN) certification and is a great role model for her peers.
Peggy Leadbetter, BSN, RN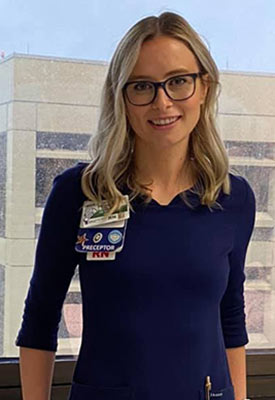 Since new nurse graduate Peggy Leadbetter joined Inova in 2019, she has proved herself to be a valued addition to the IMCU. She chairs the Patient Experience Council, and serves on the MSET Council and Wound Healing Committee. Peggy always seeks out answers to her questions and is a persistent advocate for her patients. For example, she spent three days working to ensure one patient received the thoracentesis he needed before discharge. Peggy is known for her excellent customer service skills and her name is the one most frequently mentioned in our patient satisfaction surveys. As an IMVH team member, she is truly an inspiration, staying positive during challenging times and always willing to support her peers. She recently started precepting other nurses, guiding them to excellence. In 2021, Peggy received the Rising Star Inova Nurse Excellence award.
Kaylin Cummings, BSN, RN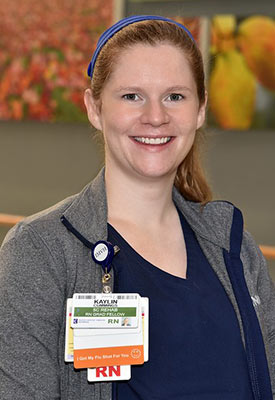 Rehab nurse Kaylin Cummings is an up and comer in her unit. She won't tolerate inefficiencies and goes above and beyond to fix them. Recently, she took on the challenge of improving the care of LVAD equipment. The unit was losing these lifesaving devices while transporting them to and from appointments. Kaylin led a team of nurses, LVAD staff from other Inova hospitals, and transportation company employees to create a process for proper transfer procedures. She then created a poster to educate all nurses on the rehab units about these best practices. Kaylin believes in a "one team" approach to nursing. She is often seen caring for patients who are not assigned to her, taking the time to assist when her colleagues are busy with other patients. You will never hear Kaylin say, "That's not my patient," because at Inova compassionate patient care always comes first.