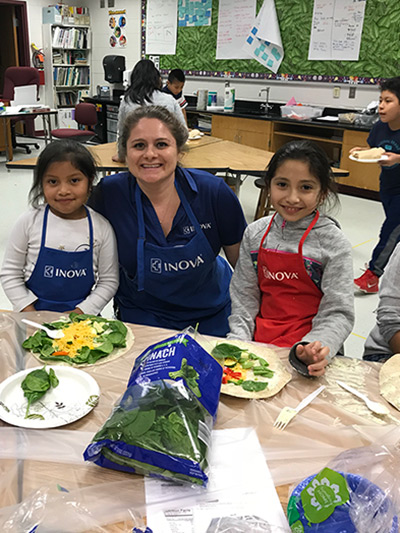 "EWWW! I do NOT like cauliflower," a fifth grade boy said recently. He had arrived at the Inova Healthy Plate Club – a weekly class that teaches kids about healthy eating and cooking – to find he'd be making cauliflower nuggets.
But, as this student and his classmates beat the eggs, measured ingredients, and lightly breaded the cauliflower, his attitude started to change. By the end of the hour, he was happily eating a plate of cauliflower nuggets. "I guess I DO like cauliflower!"
This scenario is not uncommon to the Inova Healthy Plate Club. Run by Inova's Population Health department, the program is part of Inova's commitment to the community. Aimed at students in grades 2 through 6, this program aims to reduce obesity rates among low-income children by helping them develop a love for vegetables and healthy eating.
How the Healthy Plate Club Works
A key to the program's success is trying vegetables in different ways. Kale is baked with a sprinkling of parmesan cheese. Spinach is blended into smoothies. Zucchini is sliced, breaded and baked. And Brussels sprouts are sautéed with dried cranberries.
The kids attend 8 weekly classes, usually held at their school at the end of the day. They cook and learn about label reading, building healthy meals, and everyday vs. sometimes foods/drinks. And they ask things like, "Can we make kale chips again?"