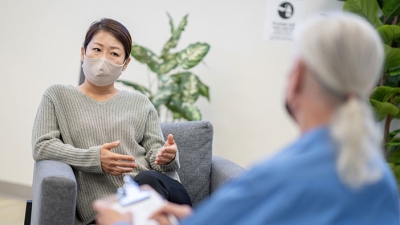 Inova Cares Mental Health Counseling Adult Services
As part of Inova's not-for-profit mission we offer adult mental health counseling services for individuals approved through Inova Financial Aid.
For information or to schedule an appointment call 703-779-5480.
Purpose
Inova Cares Clinic for Behavioral Health opened in 2022 as a part of Inova's commitment to support care to patients regardless of their ability to pay and through the generosity of donor funding.
The purpose of the program is to provide therapeutic support to those experiencing mild to moderate mental health conditions in an effort to reduce unwanted symptoms and improve wellbeing.
Services and Conditions Overview
Once approved and admitted, the types of conditions treated include people who are experiencing mild to moderate mental health needs such as depression, stress management, grief, anxiety, and/or other health and life stressors.
Our service offering includes goal-oriented therapy of 10-12 sessions on a weekly/bi-weekly and time-limited basis with qualified mental health credentialed professionals.
Medication management services managed under the care of a psychiatrist are not included. If an aftercare plan is indicated your therapist will discuss this with you. Referrals for community resources for both continued counseling as well as primary care and other social services will be provided as needed.