Featuring Northern Virginia's first outpatient antenatal testing center, the largest high-risk perinatal staff in the country and more than 40 years of experience caring for patients, Inova Women's Hospital is a leader in maternal fetal medicine.
Conditions We Treat
Hypertensive Disorders
Chronic hypertension, gestational hypertension, HELLP Syndrome (hymolysis, elevated liver enzymes and low platelet count) and preeclampsia (toxemia) are all dangerous for the mother and the baby. Inova's physicians are skilled in the diagnosis and treatment of hypertensive disorders, from medication management to knowing when it's time to deliver.
Placenta Previa, Accreta and Other Placental Abnormalities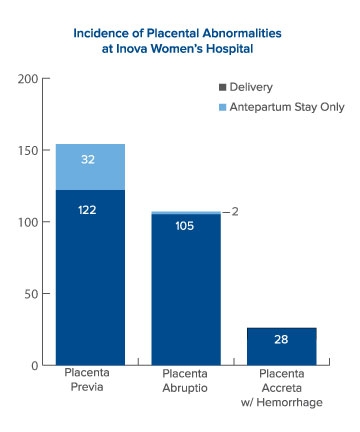 Placental abnormalities can lead to major issues in prenatal development and can create a very challenging delivery, with high risk of bleeding and other complications. Inova Women's Hospital has more experience than any other hospital in the mid-Atlantic delivering women with placental abnormalities.
Click the image to see our incidence of placental abnormalities at Inova Women's Hospital
Preterm Labor
If a woman is experiencing preterm labor, for whatever reason, the high-risk pregnancy at Inova Women's Hospital allows for observation or inpatient care. Perinatologists are able to constantly monitor and manage medication from the unit, and perform cerclage or other minor procedures necessary to help women carry their babies as long as possible.
Endocrine Disorders and Diabetes
Gestational diabetes, type 1 diabetes, thyroid disorders, and other endocrine disorders. Inova physicians are able to manage diabetes and other endocrine disorders in order to keep both mother and babies safe.
Intrahepatic Cholestasis of Pregnancy (ICP), Hepatitis, Acute Fatty Liver and Other Liver Disorders
These disorders can lead to discomfort during pregnancy, preterm birth, and other major complications, including risk of the mother's life. Physicians are skilled in treating liver disorders during pregnancy and preventing any spread of Hepatitis from mother to baby.
Multiples
Twins, triplets, quadruplets and more multiply the joy that a family experiences, but also bring major risk to both mother and infants. The Multiples Clinic at Inova Women's Hospital is the only one of its kind in the region. The perinatology team's protocol brings more multiples to full-term than the national average. In 2012, Inova Women's Hospital welcomed 369 sets of twins, 16 sets of triplets and 4 sets of quadruplets into the world.
Advanced Maternal Age
Women over 35 have increased risk of previously mentioned complications of pregnancy, as well as increasing the likelihood of having a baby with certain genetic disorders. Antenatal testing and monitoring of women over the age of 35 is a major portion of the perinatology practice at Inova Women's Hospital, considering the birth demographics of our region.
The Antenatal Testing Center at Inova Women's Hospital
The Antenatal Testing Center at Inova Women's Hospital includes a highly skilled team of physicians, nurses and sonographers cares for pregnant women who are at risk for maternal, fetal or obstetric complications. Our staff is one of the most experienced in the region, diagnosing and treating thousands of patients over four decades with consistently excellent outcomes. The center offers the full spectrum of prenatal, pregnancy and post-partum care. Comprehensive services range from education and nutrition counseling to high-tech ultrasound and state-of-the-art screening procedures. The center was the first Northern Virginia to perform the Nuchal screen for Down syndrome and other abnormalities. Physicians and sonographers are credentialed in nuchal translucency by the Maternal-Fetal Medicine Foundation.
Inpatient Care
Our 38-bed High Risk Perinatal Unit is the largest inpatient unit in the country dedicated to the care of pregnant women requiring hospitalization before delivery.
Our nurses and physicians care for a women facing variety of conditions including premature labor, placenta previa, fetal growth restriction, diabetes and preeclampsia. The unit has developed comprehensive care plans for diabetes in pregnancy, premature labor/premature ruptured membranes and preeclampsia. We have coordinated care plans for placenta accrete and other placental abnormalities, treating more than 100 women each year. Our team includes maternal fetal medicine, gynecologic oncology, anesthesia, interventional radiology, intensive care specialists, and blood bank. The physicians are experienced in performing rescue cerclages for women with advanced cervical dilation who may otherwise lose their babies.
Genetic counseling
The Antenatal Testing Center is one of the few in the country with a full-time geneticist on staff to provide prenatal genetic counseling and advise and support couples who are pregnant or planning a pregnancy. Services include genetic testing such as amniocentesis and chorionic villus sampling. It also offers prenatal genetic counseling and diagnostic testing to screen for inherited diseases or disorders.
Inova Children's Hospital Fetal Care Center
Using a multidisciplinary approach of specialty physicians and nurses, Inova Children's Hospital Fetal Care Center provides prenatal consultation and pediatric care planning for pregnant women identified as carrying babies with fetal heart abnormalities, birth defects or medical problems. The program provides the advantage of high-risk pregnancy expertise available at Inova Women's Hospital with the pediatric surgical and medical expertise of Inova Children's Hospital. When problems are identified, all of our surgical and medical specialties are available for prenatal consultation, coordinated by our patient navigator who helps the expectant mother throughout the entire process of her hospital visit, delivery and surgery. Because the fetal care, birth and pediatric care can all occur in the same setting, the family does not have to be separated from their baby at this critical time.
Research
Researchers in the Department of Obstetrics and Gynecology and the Department of Pediatrics are partnered with the Inova Translational Medicine Institute in a large program aimed at using genomics, proteomics, and systems biology to understand the molecular alterations associated with obstetrical and neonatal disease. In a groundbreaking study, they are collecting whole genomes from over 500 families (inclusive of full- and pre-term infants with their parents) to determine if there is an inherited predisposition to premature birth, defined as delivery before 37 weeks gestation. A follow-on study aimed at enrollment of several thousand families will facilitate analysis of the genetic and epigenetic (environmental) changes that are associated obstetrical and neonatal diseases. Genetic and environmental factors play a significant role in the development of diseases that affect the pregnant mother and her baby. Understanding the complexities of these disease processes on a molecular level is essential to implementation of early detection and surveillance programs as development of novel targeted preventive and therapeutic strategies that must be individualized in the provision of personalized women's care.