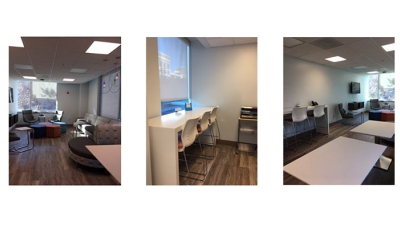 Spaces to Collaborate and Study
The Claude Moore educational space for our medical students specifically houses flex seating classrooms with televideo capabilities, as well as, large individual study carrels complete with desktop computers. Students can also enjoy a newly renovated student lounge with kitchenette, Wi-Fi, computers, and an eating and relaxation space.
World-class Teaching Facilities
As part of our educational vision, Inova has established its own Claude Moore Education and Research Center, which features 12,000 square feet of modern space dedicated to the educational needs of our UVA students. The Inova Campus boasts an additional 12,000 square foot medical simulation center, Inova's Center for Advanced Medical Simulation (ICAMS) and a several thousand square foot surgical simulation and advanced practice training space, called ASTEC. These spaces enable students to learn through hands-on experience and side-by-side with our faculty, residents, and nurses. Both centers follow Inova's focus on inter-professional collaborative training and educational experiences.
In addition, these dedicated centers are outfitted with state-of-the-art televideo communication facilities to establish seamless and virtual meeting opportunities for whatever the need or purpose between the two campuses. Educational or administrative, you will be in the room with your UVA faculty and colleagues without having to drive anywhere.
The Jacob D. Zylman Health Sciences Library is an on-site medical library at the Inova Campus. All Inova students are provided with 24-hour access to the library, which includes subscriptions to journals, texts, and online resources. There are three study/conference rooms and 16 individual study carrels as well as tables for group work in the library.
A Great Location
You couldn't ask for a better place to live and study than in the Washington D.C. metropolitan area. The location affords students the opportunity to work with an ethnically and culturally diverse patient population, committed medical staff and a full scope of patient care services.
You'll enjoy the area's many museums, historical landmarks, art galleries, multi-cultural dining, professional sports venues, entertainment and shopping. Public transportation is convenient via the area's vast Metro rail system, so getting around is easy. From city to suburbs, all is within reach and the diversity of community living options allows for students to choose where they will grow and benefit the most. There is a robust offering of housing within walking distance of the Inova Fairfax Medical Campus and it's just up the road to the exciting mixed-use Mosaic District that maintains all one needs for the staples of life plus the opportunities to shop, dine, and be entertained.