Relapse Prevention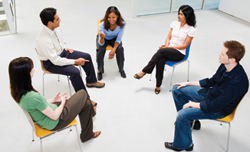 Relapse Prevention is outpatient group therapy that offers less-intensive structure for patients who have already established a program of recovery and would benefit from additional support. This therapy helps to increase insight into the dynamics of relapse and how to identify warning signs. 
Relapse Prevention groups provide a stable structure for patients while they increase and improve their own self-help support system and focus on other concerns that may impact their risk for relapse.
Sober Living
Sober Living is group therapy that helps support patients' transition to recovery through the use of self-help groups and other resources that were introduced during treatment in our Intensive Outpatient Program or Relapse Prevention therapy. Groups meet for 90 minutes each week.
Sober Living groups are designed as aftercare for patients who have completed higher levels of treatment and seek the ongoing continuity and support of treatment sessions. 
Additional Follow-Up and Support Services
Individual therapy
Couples therapy
Medication management
Family therapy
Family education
Toxicology screening