The Inova Neurosciences Research Program is under the leadership of Saqib Chaudhry, MD, Director of Research, Inova Neurosciences. Our goal to advance neuroscience clinical outcomes and treatment options for the Inova community, the nation and the world. The program embraces collaborations with other research institutions and educational programs. We have many active clinical trials with the capacity to expand our research. We welcome the opportunity to build new partnerships and encourage you to contact us to discuss.
---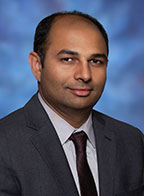 Saqib Chaudhry, MD
Director of Research, Inova Neurosciences
---
Karlie Smith, BSN, RN
Senior Clinical Research Nurse and Research Manager
Karlie Smith earned her Bachelor of Science in nursing from James Madison University; she also holds a BA in art history. Smith has more than 12 years of nursing experience within the Inova Health System and is a certified clinical research nurse. Her previous experience includes caring for cardiovascular, thoracic and intermediate care patients. Smith joined the Inova Neurosciences Research Program in 2016, assisting with numerous trials in both the clinic and acute care settings.
---
Yun Fang
Senior Database Administrator
Yun Fang is a data professional with an MS in computer science and biostatistics from the University of Albany, and a certified SAS-programmer. Fang has 15 years of experience involving clinical data management and analysis from multicenter clinical trials and single clinic studies on population census, inpatient and outpatient for research and quality measures in New York, Cleveland, OH, and Fairfax, VA. Fang implements online applications and provides data integration and presentations for investigators in multiple research institutions for critical care, neurology and geriatric services at Inova.
---
Tugce Karageyer, BSN, RN
Clinical Research Nurse
Tugce Karageyer earned her Bachelor of Science in Nursing from Stratford University, and also holds a Bachelors in Biology with a minor in Chemistry from Virginia Commonwealth University. Karageyer started her healthcare journey in pharmacy while exploring other avenues before starting nursing school in 2017. Karageyer began her nursing career with the Inova Juniper program in 2020 prior to transitioning into the role of Clinical Research Nurse with the Neuroscience Research Team in 2021.
---
Laura Madarász, MS, CCRC
Clinical Research Coordinator
Laura Madarász earned a Bachelor of Arts degree from Ohio Wesleyan University and a Master's degree in Clinical Research with Drexel University. She is certified with the Association of Clinical Research Professionals as a certified clinical research coordinator (CCRC). Madarász joined the Inova Neuroscience Research Department in 2016. Her work is concentrated on epilepsy, stroke, traumatic brain injury, and brain tumor research.
---
Stefannie Belardo, BSN, RN
Clinical Research Nurse
Stefannie Belardo earned her Bachelor of Science in nursing from George Mason University; she also holds a BS in biology from Virginia Commonwealth University. She started her career at the Inova Translational Medicine Institute where she learned and practiced laboratory research. With Inova's help, she went back to school and accomplished her nursing degree. She spent a year and a half on Inova Alexandria Hospital's Intermediary Care Unit before combining her love for research and people by joining the Inova Neurosciences Research Program where she assists with various trials.