Applications should include graduate school transcripts, a letter of intent identifying why the clinician desires entrance into a residency program, and two letters of recommendation.
Qualified applicants will be contacted by the program director and scheduled for in person interviews with senior committee members. The scheduled interview date will also include a mock patient evaluation. Decisions will be finalized and communicated to selected applicants within several weeks.
To apply to the residency program, follow the quick link to RF-PTCAS (a centralized application service for post-professional residency and fellowship education programs accredited by the American Board of Physical Therapy Residency and Fellowship Education (ABPTRFE) of the American Physical Therapy Association (APTA).
The "Q"mmunity Scholarship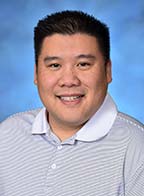 The Inova Orthopedic Physical Therapy Residency Program is honored to present an annual scholarship for one exceptional resident that demonstrates excellence in community engagement and service.
This unique scholarship opportunity – "Q"mmunity Scholarship is named in honor of longstanding Inova Physical Therapy Center team member and esteemed residency faculty member Quang Bui, who we lost all too soon. "Q," as he was known to us, fostered an unmatched commitment to the community during his time at Inova while making an impact through service excellence. This scholarship is named in his memory and the legacy of community service and excellence he left behind. We are proud to honor your service Quang "Q" Bui!
Important Program Dates
Application Window lasts from March 1 - May 1, 2021
We are planning to hold interviews on May 24, 2021
Program acceptance notifications take place June 3 - 7, 2021
Program start date is July 19, 2021