Inova Schar Heart and Vascular is a nationally recognized leader in providing the latest cardiovascular care innovations, with exceptional patient outcomes. We consistently rank among the country's best hospitals and care providers for excellence, innovation, quality, and safety.
Awards for Excellence in Cardiovascular Care
American College of Cardiology
The American College of Cardiology is the most trusted source for outcomes-based quality metrics related to the care of cardiac patients.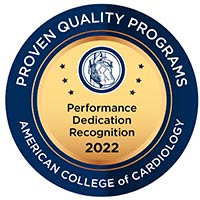 Proven Quality Program: Inova is recognized as one of the top health systems in the U.S. for providing top quality care to heart patients. Inova Schar Heart and Vascular is one of only 87 health systems nationwide to receive this designation.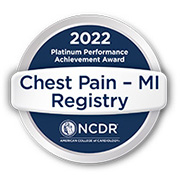 NCDR ACTION Registry Platinum Performance Achievement Award: Every year since 2014, Inova Fairfax Hospital has earned Platinum Performance, which recognizes the highest level of care for high-risk Chest Pain – Myocardial Infarction (Heart Attack) patients.
Since 2021, two additional Inova hospitals – Inova Alexandria Hospital and Inova Loudoun Hospital – have also earned the American College of Cardiology's MI Registry Platinum Performance Achievement Award.
This program recognizes hospitals participating in the registry who have demonstrated sustained, top level performance in quality of care and adherence to guideline recommendations.
Aetna Institutes of Quality® – Cardiac Care
Each year since 2018, Inova Schar Heart and Vascular at Inova Fairfax Medical Campus has been accredited as an Aetna Institute of Quality Cardiac Care Facility for consistently delivering evidence based, quality care for cardiac medical intervention, cardiac rhythm care, and cardiac surgery.
The Aetna Institutes of Quality (IOQ) network was developed to help patients and their doctors simplify their provider selections. Their accreditation is based on the quality factors of experience, standards, support, and efficiency. Aetna IOQ facilities have been specifically selected for meeting (and surpassing) all of these criteria.
American Association of Cardiovascular and Pulmonary Rehab (AACVPR)
Inova Schar Heart and Vascular's comprehensive cardiac rehabilitation programs at Inova Fairfax Medical Campus, Inova Alexandria Hospital, Inova Loudoun Hospital, and Inova Mount Vernon Hospital are certified for adherence to rigorous national standards and guidelines.
American Association of Critical-Care Nurses: Beacon Award for Excellence
The Progressive Coronary Care Unit (PCCU) of Inova Fairfax Hospital has once again received the Silver Beacon Award for Excellence from the American Association of Critical-Care Nurses (AACN), for a 3-year designation. This award recognizes unit caregivers who successfully improve patient outcomes and align practices with AACN's six Healthy Work Environment Standards.
American Heart Association and Mitral Foundation
For the third consecutive year, Inova Schar Heart and Vascular has been honored with the prestigious Mitral Valve Repair Reference Center Award for 2023. Their exceptional dedication to patient care and commitment to excellence in degenerative mitral valve repair have truly set them apart. Inova Schar Heart and Vascular has consistently demonstrated superior clinical outcomes, thanks to their evidence-based guideline treatment.
Cardiovascular Operating Room Award
The Certified Perioperative Nurse (CNOR) team in the Cardiovascular Operating Room at Inova Schar Heart and Vascular has earned the 2022 CNOR Strong designation from the Competency & Credentialing Institute (CCI). This is the second year in a row that the team has earned this designation, which represents a commitment to perioperative excellence and outstanding patient care. Certification demonstrates that nurses have validated their mastery of perioperative practice. Research correlates certification with improved patient outcomes. The award is given to operating room departments that have achieved 50 percent or higher certification of eligible perioperative nursing staff; the Inova Schar Heart and Vascular CVOR team has achieved a 76 percent certification rate.

The Centers for Medicare and Medicaid Services (CMS)
Certified Adult Heart and Adult Lung Transplant Programs
Extracorporeal Life Support Organization
Gold Level ELSO Award for Excellence in Life Support: The Cardiac, Critical Care and Lung Services teams at Inova Fairfax Medical Campus have been designated a Gold Level Center of Excellence. This award recognizes the highest level of performance, innovation, satisfaction and quality.
Intersocietal Accreditation Commission (IAC):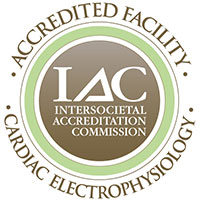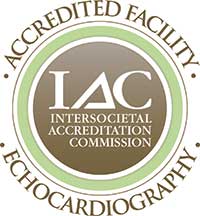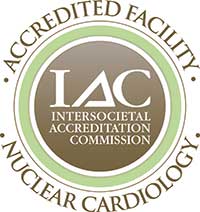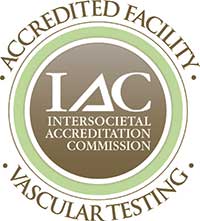 Echocardiography (Adult and Pediatric)
Special recognition goes to the Inova Cardiac Diagnostic Services - Fairfax located at the Inova Specialty Center for maintaining its IAC accreditation for 20 consecutive years.
Cardiac Electrophysiology – Testing and Ablation, Device Implantation, Chronic Lead Extraction
Nuclear/PET – Nuclear cardiology: RMPI
Vascular Testing – Peripheral Arterial Testing, Extracranial Cerebrovascular Testing; Peripheral Venous Testing
The Joint Commission: Certified Ventricular Assisted Device (VAD) Program
Inova Schar Heart and Vascular is the only hospital in the Northern Virginia area with a ventricular assisted device (VAD) program certified by The Joint Commission.
Society of Thoracic Surgeons: 3-Star Ratings
The Society of Thoracic Surgeons (STS) is a national leader in health care transparency and accountability showcasing the quality of surgical outcomes. Inova Schar Heart and Vascular has earned the top rating – 3 stars – in four out of five possible categories for patient care and outcomes in its cardiothoracic surgery program. Only 10-13 percent of all U.S. hospitals receive a three-star rating in any category. The three-star-ratings, which Inova Schar Heart and Vascular has received for multiple years, reflect avoidance of morbidity and mortality. 
Coronary Artery Bypass Surgery (CABG)
Aortic Valve Replacement (AVR)
AVR+CABG combined
2023 Winner of the TrueNorth Award
The TrueNorth Award recognizes facilities that use certification as a "true north," guiding their perioperative nursing staff to be lifelong learners, models of competent practice, and advocates for excellence and patient safety. Facilities who earn the TrueNorth Award exhibit the highest standards in perioperative certification excellence.