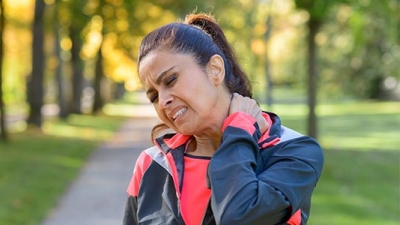 Back and neck pain complicates everything.
Getting help is simple.
The Inova Spine Program offers world-class, comprehensive treatment for back and neck pain, injury, tumors, trauma and more. Unique to our region, we have four nationally recognized Spine Centers of Excellence certified by the Joint Commission – more than any other health system in the mid-Atlantic.
Call us today, and our experts will assess you over the phone to get you to the right provider, right away.
Who We Are and What We Treat
At the Inova Spine Program, our experts will work with you to create a customized treatment plan that best suits your needs. We offer a full spectrum of diagnostic and treatment options – from nonsurgical pain management and award-winning rehabilitation services to cutting-edge, minimally invasive surgical technologies, including robot-assisted equipment and augmented reality instrumentation.
We will guide you every step of the way. We put our patients first and take the time to get to know each patient individually. The Inova Spine Program features a multidisciplinary team with neurosurgeons, orthopedic spine surgeons, physical medicine and rehabilitation specialists, pain management specialists, and dedicated patient care navigators.
Back and Spine Treatment Options
Locations
We are the only spine program in Northern Virginia with five hospitals, six Inova-GoHealth Urgent Care centers, 13 Inova emergency rooms, and many outpatient clinics and rehabilitation centers throughout Northern Virginia to safely care for you close to home or work.
Inova Spine Patient Success Stories
Mark McChrystal faced back pain so severe he wasn't able to walk or drive well any longer.
Mark Mildorf completed a 100-mile bike ride just 90 days after spinal decompression and fusion surgery.
Brad McFarland trusted Inova's spine experts to help him overcome severe spine pain & reclaim his life.
Ben Vielleau Gets Spine Fusion and Returns to Coaching Swim Team
What Can We Help You With?
Make an appointment
Give us a call or submit our online form to get started.
Learn more about back pain
Learn about the most common types of back pain, symptoms, and possible treatments.
Learn about treatment options
Our specialists offer the full range of treatment options for back pain and related spinal conditions, including surgical procedures, conservative care and rehabilitation, and pain management.
How bad is your pain?
Take our online Back Pain Assessment and get recommendations for next steps.
Preparing for surgery
Pre-surgery online class, patient forms, and other resources.
MyChart
Already a patient? Get on-demand access to your patient records with the MyChart patient portal.
Show More
Our Promise

We will work with you to create an individualized treatment plan that best suits your needs. Our goals are to alleviate your pain and to restore optimal movement.