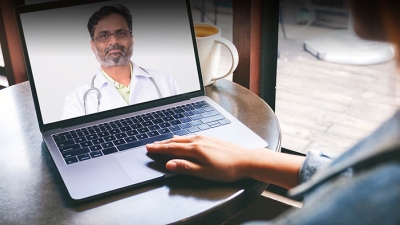 Schedule a secure, real-time, video appointment with your doctor.
Don't Delay Your Visit
The Inova Spine Program provides excellence in care for all kinds of back and neck pain conditions through a combination of in-person and virtual visits. Virtual visits allow patients to speak with their doctor through a smartphone, computer or tablet device in real time. Prescribing of medications and/or neurological testing if and as appropriate may be discussed.
Our goal is to reduce the number of times you have to come to the medical office while providing frequent, regular access to your care provider through virtual visits, phone calls and online messaging.
Which Appointments May Still be Conducted In Person?
We suggest that first time, new patient appointments be conducted in person as well as those for patients without access to a smartphone, computer or tablet. Other exceptions would include:
Neurological Testing – We will help with coordinated care, as needed, with the Inova Neurology Team.
Physical Therapy and Rehabilitative Care – We will help with coordinated care, as needed, with Inova Rehabilitative Services that may or may not be scheduled in-person depending on your individual treatment plan. Please discuss what is needed with your provider prior to scheduling.
Pre-surgical Evaluation and Testing – We will assist you to schedule in-person visits for your pre-surgical evaluation and testing.
Physiatrist – If in need of a physiatrist to review your care, we will make referrals and coordination as needed, noting a visit may or not necessarily be in-person.
Post-surgical Care – We will assist you to schedule in-person visits, such as nurse visits or suture or staple removal as directed under the discretion of the overseeing provider and/or outpatient rehabilitative services.
Frequently Asked Questions (FAQ)
Who is eligible?
All existing Inova Spine Program patients are eligible for virtual visits at the provider's discretion. Patients must be age 18 or over and if not have a parent or guardian with them. Please refer to the FAQs for the types of medical needs where it is advised to make an in-person appointment. We actively accept new patients.
Telemedicine services are offered to patients (new or established) who are physically located in Virginia at the time of the virtual visit.
How do I schedule a virtual visit appointment?
To schedule your appointment, please contact us Monday - Friday, 8:30 a.m. to 5 p.m. at 703-776-4700 and request your particular provider. We will provide the same level of attention and detail during virtual visits as any other visit for your individual care.
What will I need to participate in virtual visits?