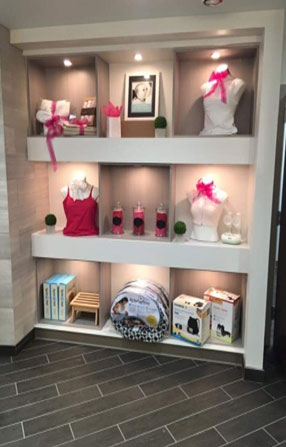 Choosing to breastfeed your infant is a very important decision and we are here to help you make this time comfortable, convenient and enjoyable. Our experienced Women's Boutique team supports breastfeeding mothers to best suit their lifestyles. We are:
Sensitive to families' different cultural needs
Eager to "meet the mother where she is" during the breastfeeding experience
Available to help the mother plan for breastfeeding if she returns to the workplace
Retail Hours
The retail store is located in the lobby of the Inova Women's & Children's building
Monday – Friday  – 9 a.m. to 5 p.m.
Saturday – 10 a.m. to 3 p.m.
Sunday – Closed 
Boutique Offerings
Hospital Grade Breast Pump Rentals
Rental Rates:
Weekly: $25
One Month: $80
Three Months: $200
Six Months: $360
* These rates are pre-taxed, and do not include pumping kits which are sold separately.
Breastfeeding Gear & Comfort
Nursing Pillows
Nursing Pillow Covers
Nursing Stools
Nursing Pads
Milk Storage Bags
Personal Pumps for Purchase:
Pump Replacement Kits
Individual Attachments
Nursing Attire
Nursing Scarves
Nursing Tanks
Nursing Bras and Fittings (To minimize your wait time, please call to schedule an appointment for a fitting)
Hands-free Pumping Bras
Lactation Supplements
Lactation Cookies
Motherlove Brand Galactagogues:
--Malunggay Gel Capsules
--Shatavari Gel Capsules
--More Milk
--More Milk Special Blend
Baby Gear
Infant Car Seats
Car Seats Covers
Moby Wraps
Infant Swaddles
Organic Care & Comfort
Belly Oil
Sitz Spray
Belly Salve
Nipple Cream