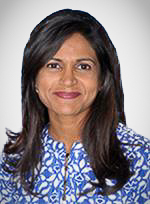 Denise Mohess, MD, is Chief of Geriatrics at Inova Fairfax Hospital
Tell Us a Little Bit About the Help Program.
The goal of HELP, which stands for Hospital Elder Life Program, is to maintain function for the elderly while they're at Inova Fairfax Hospital. When elderly people are in the hospital they are at risk for loss of strength and agility, as well as confusion and delirium. HELP works to ensure that these patients leave the hospital in as good or better shape than they were when they went in.
One of the most special things about HELP is that it's all done by volunteers. The program takes place in the hospital and is supervised by hospital staff, but it's volunteer-driven. Carefully screened and trained volunteers work to prevent or minimize problems for our elderly patients by providing personalized bedside care and attention.
In addition, it's entirely supported by  philanthropy. This generous support from our community enables us to offer these services for free to patients 70 and over. 
What Kinds of Things Do the Volunteers Do?
It varies from patient to patient, and that's one of the great things about HELP. Volunteers converse and reminisce with patients, or use relaxation techniques like stress-relieving imagery and guided meditation. They also encourage the patient to stay active, and help with simple physical exercises or mentally stimulating games and puzzles. But it doesn't have to be structured. Many HELP volunteers simply provide companionship during meals and serve as a friendly face and a willing ear for the patients.
How Would You Describe HELP's Approach and Philosophy?
I view HELP as a win-win-win situation. It's a win for the patients, their families and the nursing staff. The patients benefit because they don't experience negative effects during their hospital stay. The families are relieved to have a trained, compassionate individual there to help cheer and comfort their loved one. Our nurses – who are the best in the world and work hard to provide attentive, personalized care to each individual – feel good knowing that HELP volunteers are spending time with the patients and providing the companionship that they know these patients need.
How Does Help Compare to Other Geriatric Hospital Programs in Northern Virginia?
Actually, it's the only program of its kind in Northern Virginia, and in the D.C. metro area, for that matter! Plus, HELP is even more effective at Inova because it dovetails with NICHE, another program here. NICHE (Nurses Improving Care for Health System Elders) is a nurse-driven program in which the entire patient-care team – not only nurses and doctors but also pharmacists, physical therapists and social workers – collaborates to provide the best senior care possible. HELP volunteers are an additional resource available to the caregiving team at Inova Fairfax Hospital.
Could You Share Some Tips on How People Can Age Well?
Successful aging relates to three things. First is the avoidance of disease. In part, this is governed by factors you can't control, but you can help to lower your risk of disease by cultivating healthy behaviors, such as not smoking, drinking alcohol only in moderation and staying physically fit.
Second is health maintenance. Go to your doctor for routine checkups, monitor your cholesterol and blood pressure levels, and take your medication as prescribed. Third, keep yourself fit in the mental, emotional and social arenas by exercising your brain and staying connected to family, friends and the community. After all, you might be healthy on paper, but if you're socially isolated, you won't age as successfully.
For more information about HELP, email Susan Heisey, MSW, or call her at 703-776-6824.