The Inova Loudoun Hospital Joint Replacement Program offers the latest procedures for hips, knees, shoulders and other joints. Advanced methods adopted by our expert team mean shorter surgery time, shorter hospital stays and quicker recovery. Joint pain is treatable. We can help get you moving again.
Accredited by The Joint Commission
Inova Loudoun Hospital has earned The Joint Commission's Gold Seal of Approval for accreditation as a Center of Excellence for hip and knee replacement. The accreditation recognizes our ongoing dedication to patient safety and high quality care.
MAKOplasty® Partial and Total Hip and Knee Replacements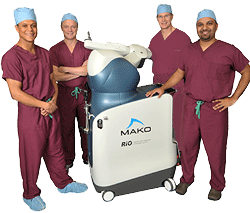 A new robotic-assisted alternative to total knee replacement, MAKOplasty® partial knee resurfacing is an innovative treatment option for adults living with early- to mid-stage osteoarthritis of the knee. MAKOplasty's robotic technology improves accuracy and outcomes for partial knee replacements. Individuals with more limited joint damage can be successfully treated with partial knee resurfacing and benefit from the resulting rapid recovery and a faster return to daily activities.
The MAKOplasty® robot at Inova Loudoun Hospital can now also be used for total knee and hip replacements. This new technology allows the surgeon to improve the accuracy of the implant placement while allowing the surgeon to make adjustments for muscular and soft tissue alignment.
Learn more about MAKOplasty
Meet Our Joint Replacement Specialists
Our expert physicians have performed hundreds if not thousands of joint replacement surgeries, including complex revisions, using the latest state-of-the-art procedures in hip, knee, elbow and shoulder joint replacement. They work hand-in-hand with a team of skilled anesthesiologists, nurses, physical and occupational therapists.
Meet our team of joint replacement specialists