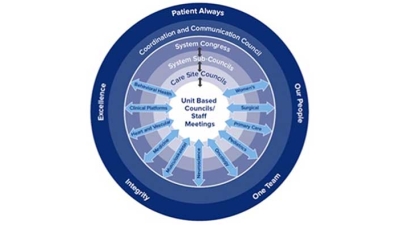 Professional Practice - Inova Alexandria Hospital
Shared Governance
A fundamental requirement of an organization is to have an effective shared governance structure.
Shared Governance is a decision-making model focused on empowering the nurses who care for the patients, the frontline of decision making.
The Shared Governance councils are comprised of clinical nurses, clinical nurse educators, clinical nurse specialist with representation from each nursing unit. The Inova Alexandria Hospital (IAH) council also has interprofessional colleagues from pharmacy, laboratory services, infection prevention, physical therapy, informatics, respiratory, and quality as ad-hoc members.
Inova Alexandria Hospital Shared Governance
The IAH Care Site Council meets monthly and is led by clinical nurses. This is council is the decision-making body where process improvement activities, practice changes, and other patient care, work environment, and professional practice objectives are discussed. These initiatives are then brought back and shared with our patient care units through established Unit-Practice Councils (UPCs). The UPC's provide decision-making resources at the unit level encouraging all clinical nurses to participate in improving and developing their professional practice.
The sub-councils at Inova Alexandria Hospital include:
Professional Development
Supports and facilitates nurses in obtaining professional nursing certification, advancement on the clinical ladder (ADVANCE), BSN, and/or advanced degrees. Leads and oversees the DAISY nurse recognition program. Council reviews certification, BSN, ADVANCE, and RN satisfaction data and provides Professional Development and Recognition activities for IAH nurses. As of the end of 2020, currently have 93 nurses on the clinical ladder and over 160 nurses hold a professional nursing certification.
Clinical and Patient Experience
This council examines IAH's quality and patient satisfaction data. Supporting and facilitating the work of the UPC's in linking work process to outcomes. IAH consistently outperform the national benchmarks on all nurse sensitive indicators including falls with injury, HAPI's, CAUTI's, and CLABSI's.
Nursing Research and Evidence-Based Practice
This council promotes knowledge development and contributions to nursing science. Supporting and facilitating the initiatives and ideas of our nurses who are undertaking evidence-based practice projects and research. Through 2019-2020 clinical nurses led and/or participated in two completed nursing research studies.
Night Council
The overall goal of this council it to support patient care on the night shift, to promote nurse satisfaction of nurses who work on night shift and improve the nurse practice environment. It is composed of representatives from all practice areas throughout the organization.
In 2020, many IAH clinical nurses were part of the Inova Health System Shared Governance work group to evaluate current state of shared governance at Inova and review the literature for current best practices. Information flows from the care site council to the system council in shared decision making.
---
Inova Nursing Professional Practice Model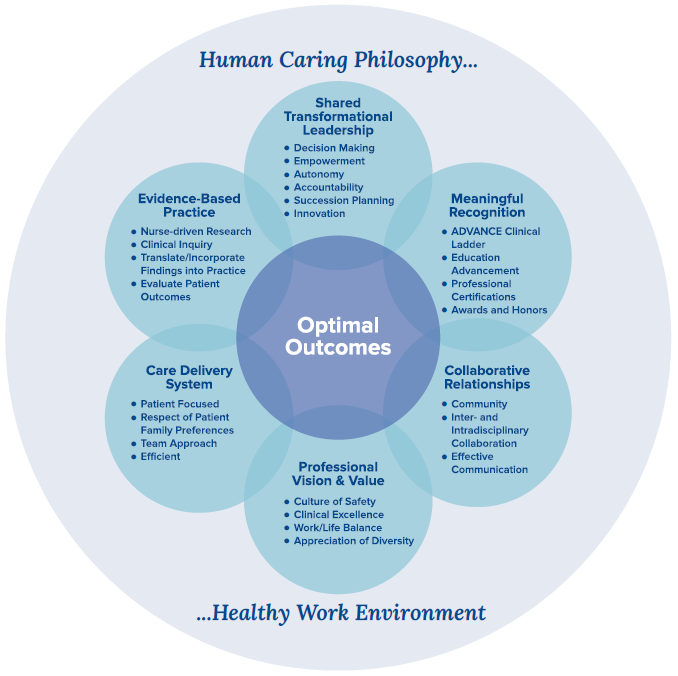 Nurses at Inova Alexandria Hospital are teachers, servant leaders, facilitators, consultants, change agents, coaches, researchers, clinical experts, and motivators. As one team, we inspire and empower our nurses to perform at the highest level of professionalism and to achieve and validate skills and confidence through engagement and feedback.
Shared Transformational Leadership (Decision Making, Empowerment, Autonomy, Accountability, Succession Planning, Innovation)
Meaningful Recognition (ADVANCE Clinical ladder, Education Advancement, Professional Certifications, Award and Honors)
Collaborative Relationships (Community, Inter and Intradisciplinary Collaboration, Effective Communication)
Professional Vision and Value (Culture of Safety, Clinical Excellence, Work Life Balance, Appreciation of Diversity)
Care Delivery System (Patient Focused, Respect of Patient and Family Preferences, Team Approach, Efficient)
Evidence-Based Practice (Nurse-driven Research, Clinical Inquiry, Translate/Incorporate Findings into Practice, Evaluate Patient Outcomes)
---
---
Inova In-Patient Care Delivery Model
The Inova In-Patient Care Delivery Model is divided into three circles with the mission as the core.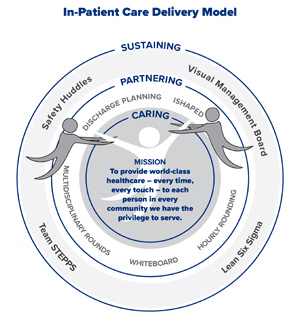 Sustaining – The outer ring of the care delivery model represents our commitment to sustaining a culture of safety and innovation leading to optimal patient outcomes. We achieve this objective by using tools such as our safety huddles, visual management boards, Team STEPPS, and Lean Six Sigma.
Partnering – The middle ring of the care delivery model represents our commitment to involving the patient/family in the planning and delivery of care. The tools we use to achieve this objective are discharge planning, ISHAPED, hourly rounding, whiteboards and multidisciplinary rounds.
Caring – At the center of our care delivery system is our mission: to provide world-class healthcare – every time, every touch – to each person in every community we have the privilege to serve. We place the patient/family at the center of all we do. This philosophy is at the heart of nurses' accountability for patient care and clinical outcomes
---
Fatima Bah, BSN, RN, CMSRN holds her new Certified Nurse jacket

Professional Certifications
Professional certifications validate professional nurses by demonstrating expertise and excellence in a specialty area and exhibiting professional engagement and pride.
At Inova Alexandria Hospital, nurses are supported in obtaining professional certifications through:
Review courses
Study groups
Reimbursements for review courses and exam fees
Recognition of success with scrub jackets embroidered with Inova Alexandria Certified Nurse
Advocating for our nurses to advance their career is important at Inova Alexandria Hospital. We encourage and support our nurses to grow in their career through professional development including specialty certification. Each year we celebrate our certified nurses on March 19, Certified Nurses Day.
---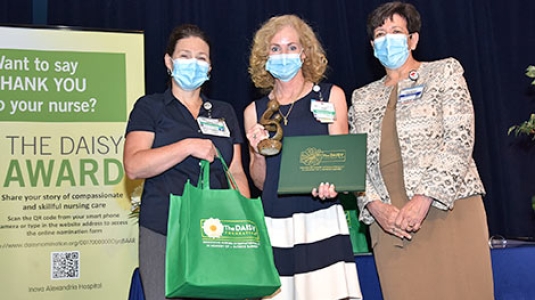 Daisy Award Recipient Laura Powers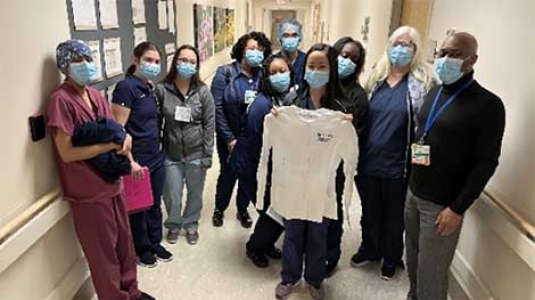 Certified Nurse Mia Anh Le, BSN, RN, CRRN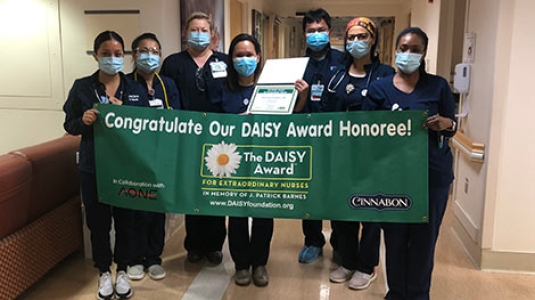 Daisy Award Recipient Maureen Godinho
Adrienne Kimak, BSN, RN with her Daisy Award

Daisy Award
Inova Alexandria Nurses Maureen Godinho, BSN, RN; Adrienne Kimak, BSN, RN; and Laura Powers, BSN, RN have been among our recipients of The DAISY Award® for Extraordinary Nurses, a national program that was established for grateful patients to recognize and show gratitude for nurses who provided exceptionally skillful and compassionate care.
Maureen Godinho, BSN, RN – Maureen was recognized for her clear communication and patient advocacy. "Her explanations helped me to be a self-advocate for my medications," wrote her grateful patient. "She did such a great job explaining what was happening and the plans for the upcoming time with her."
Adrienne Kimak, BSN, RN – Adrienne was recognized for her responsiveness and bedside manner. "Adrienne is very knowledgeable and was very responsive to all of my needs and concerns," states her grateful patient, who also mentioned the "stellar" services provided by the entire staff at Inova.
Laura Powers, BSN, RN – Laura was recognized by a colleague for her helpfulness, motivation, creative ideas for improving efficiency, and her willingness to share knowledge. Her idea for helping patients better wear their Cardiopulmonary Rebab monitors "made patients happier and accelerated the recovery progress," notes her colleague.