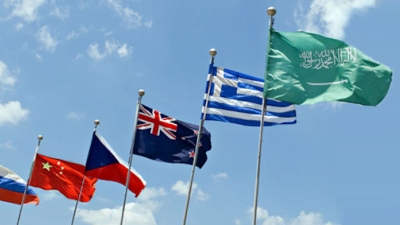 Inova International Medicine Welcomes You
Every year, thousands of international patients, diplomats and busy executives come to Inova seeking world-class medical services and expertise from the region's leading healthcare provider. This global clientele requires customized administrative, financial, logistical and scheduling resources to meet their unique needs.
Inova International Medicine provides this support. Our dedicated team of healthcare professionals facilitates medical and travel needs, cultural preferences and expectations into a seamless, individualized experience that feels as comfortable as possible.
We actively work to bring Inova's mission to life: providing world-class healthcare – every time, every touch – to each person in every community we have the privilege to serve. 
The International Medicine Department at Inova provides a full range of services to meet the cultural and personal needs of international patients and their families before, during and after their appointments.
Concierge guest services to arrange accommodation and transportation
Designated International Patient Coordinator to coordinate all patient needs,including medical record review, scheduling, escort and interpretation
Trained medical interpreters
Home care services and medication delivery
Patient transfer and air ambulance
Special arrangements for high profile patients, including security, around-the-clock care, private rooms, private entrances and home/hotel consult visits
Medical second opinion
Telemedicine capabilities for remote medical support and assessment
On-site physician visits to patients abroad
Medical accompaniment for international travel
On-site medical support for international organizations
As one of the nation's preeminent healthcare leaders, Inova is routinely recognized for medical excellence, innovation and results. Areas of excellence include:
Inova Heart and Vascular Institute covers the full spectrum of complex cardiovascular and pulmonary care, encompassing services across five hospital campuses more than 30 community-based Inova Medical Group cardiology, arrhythmia, cardiac and thoracic surgery and vascular practices
Inova's specialized pulmonary services provide comprehensive care for patients dealing with the full spectrum of common and more rare diseases of the lungs.
Surgeons at Inova Transplant Center performed the region's first heart transplant and first lung and kidney transplants in Northern Virginia. Our reputation for innovation and excellence attracts patients from around the nation and the world.
Inova Neurosciences is a regional leader in the diagnosis, treatment and research of complex neurological conditions involving the brain, spine and nervous system.
Inova Orthopedic Services leads the region in helping people with arthritis, orthopedic conditions, trauma or injury regain their active lifestyles. We specialize in groundbreaking, minimally invasive treatment for musculoskeletal diseases and injuries, including state-of-the-art joint replacement.
Inova provides comprehensive physical therapy services at a wide range of locations, including 15 outpatient centers conveniently located throughout Northern Virginia. Physical therapy services are also available at every Inova hospital.
Inova Urgent Care offers convenient care for a wide range of non-emergency conditions, including minor injuries, allergies, sprains and strains, sore throat, ear infections and more. Centers also provide immunizations, flu shots, on-site digital x-ray and on-site lab facilities.
The Inova Fair Oaks Bariatric Surgery Center, located at Inova Fair Oaks Hospital, is a fully accredited, comprehensive center for bariatric surgery, offering the most up-to-date, evidence-based care available.
Inova Women's Services provides a full range of care for women of all ages and at all stages of life. Our newly expanded Inova Women's Hospital, located on Inova Fairfax Medical Campus, is the only dedicated women's hospital in the Washington, D.C. metro area.
The state-of-the-art Inova Children's Hospital offers the highest level of dedicated pediatric care in the area with a welcoming, family-friendly environment.
The Inova Schar Cancer Institute provides patient-centered care, disease-specific expertise, research, and support and education services. Collaborating with clinical and scientific partners, we conduct genomic and translational research to better understand, predict, prevent and eliminate cancer.
Inova offers personalized care tailored to busy executives. Multiple levels of comprehensive evaluations are available each addressing patient's specific health needs and featuring a detailed report of test results and individualized recommendations.
In addition to providing world-class care to a global clientele in the National Capital area, Inova International Medicine can advise and support international institutions abroad in a variety of ways. Available services include:
On-site and on-going health services management consultation from members of Inova's management team, including facility design and services operations
On-site medical education and training from Inova's world class physicians (organizations may also send their clinicians to Inova for medical training)
Direct collaboration on patient cases with specialist physicians in all of the world-class specialties listed in this guide
Telemedicine for remote medical support and second opinions
Collaboration with researchers in multiple discipline, including most of the specialties noted in this guide
Clinical program and training development, especially for programs in infection control, disease prevention and rehabilitation medicine
Executive and Head-of-State health and helth-security services consultation
Corporate Health Programs for international organizations and embassies, ranging from comprehensive Occupational Health and a highly regarded Employee Assistance Program to Medical Director Support and Virtual Medical Director programs. A separate, detailed, Corporate Health Program brochure is available