The Inova Fairfax Interventional Pulmonology team provides state-of-the-art diagnostic and therapeutic options for lung cancer and other thoracic malignancies. We work closely with pathology and oncology to test all genetic markers that may improve the care of our patients.
Director of Interventional Pulmonology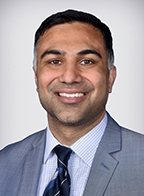 A member of Inova Medical Group
The doctors of Inova Medical Group are Inova's premier primary care and specialty physicians, offering top-notch medical expertise, full access to Inova facilities, and the convenience of integrated electronic medical records.
Specialty:
Pulmonary Disease, Critical Care Medicine
Clinical Interests:
Lung Cancer, Lung Problems and Treatment, Minimally Invasive Surgery
Areas of special interest identified by the physician or additional training completed.
Years of Experience: 14