Inova Primary Care Locations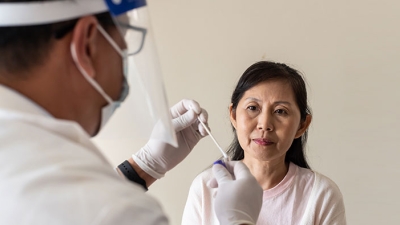 For those with moderate symptoms in need of additional guidance
Inova COVID-19 Testing for Established Patients
Inova offers COVID-19 testing for established primary care patients who are experiencing moderate COVID-19 symptoms. A virtual visit is required to determine if COVID-19 testing is needed.
Asymptomatic patients or individuals without symptoms who have been exposed to COVID-19 WILL NOT be tested.
If you have a known exposure and mild symptoms of COVID-19 and/or have tested positive with a rapid home test, please quarantine per CDC guidelines (see COVID-19 Quarantine and Isolation guidelines). Patients only need to schedule an evaluation if they have moderate symptoms and need additional guidance from their primary care provider.
Your initial vitrual visit must be scheduled with your primary care provider through MyChart.
How to schedule a COVID-19 evaluation – For those with moderate symptoms only
If you are a current Inova Primary Care patient experiencing moderate COVID-19 symptoms, please schedule a virtual visit with your primary care provider online using your Inova MyChart patient portal. A virtual evaluation will determine the next steps in your care, while helping to prevent the spread of the virus. Appointments for COVID-19 evaluation and testing vary by location.
Inova is taking the appropriate steps to protect the safety of our patients, communities, team members and caregivers. Please do not show up in person without scheduling an appointment.
COVID-19 test results will be available through your Inova MyChart patient portal within 24-72 hours.
UNDERSTANDING YOUR COVID-19 TEST RESULTS
Return-to-Work Forms
An evaluation is required if you are in need of your provider completing a Return-to-Work form because of your health-related absence from COVID-19. Please schedule an appointment through MyChart. Virtual visits are preferred.
Additional Resources
COVID FactSheet (CDC)
What to Do If You Are Sick (CDC)
Virginia Department of Health COVID-19 Testing Site
Your Primary Care Provider
Inova Primary Care wants you to feel your best. We will treat your acute and chronic medical conditions so you can feel good again. Then we will focus your healthcare around health promotion, disease prevention and patient education. Convenient. Personal. Comprehensive Care. It's what we do best.
Inova primary care providers are specialized in internal medicine or family medicine. Both types focus on health promotion, disease prevention, patient education, counseling and treatment of acute and chronic medical conditions.
 
Fight the Flu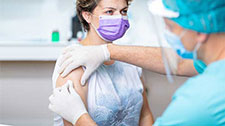 Flu vaccines are now available daily for existing Inova Primary Care patients. A yearly flu shot is the most important step in protecting you and your loved ones from getting the flu. Flu shots are recommended for all children over the age of 6 months and all adults. Talk to your provider today.
To schedule a flu shot appointment:
Frequently Asked Influenza (Flu) Questions: 2021-2022 Season