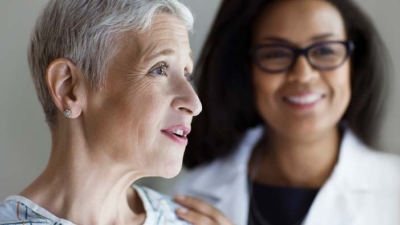 Your Breast Care Expert Is Ready To Answer Your Questions
Inova's breast cancer program is a nationally recognized treatment program that provides breast cancer care from risk assessment and prevention to diagnosis and treatment. This program at Inova Schar Cancer Institute provides highly specialized breast cancer care convenient to you, with multiple locations throughout Northern Virginia. Your individual care is coordinated with our team of breast experts, including breast navigators, surgeons, medical and radiation oncologists, and pathologists, making your care seamless.
Our care coordination team of dedicated breast specialists uses a multidisciplinary approach that brings together surgical, medical and radiation oncologists in the same location, working on your personalized treatment plan. We provide the latest innovations in cancer treatment and are one of the largest centers in the northeast for clinical trials and advanced radiation treatment, including proton therapy and Cyberknife®.
Our new patient coordinators and breast care navigators will walk you through every step in the process. Next, our committed breast oncologists will guide you through your personalized treatment plan. Our genetic counselors will help investigate whether you and your family are at higher risk for breast cancer and recurrence, helping you and your team to decide on the best treatment approach. In addition, we offer free support services through our Life with Cancer® program – delivering the highest standard of compassionate, collaborative and holistic cancer care, customized to the needs of each patient. It would be our privilege to treat you.
Inova's breast cancer program, which is nationally certified by the National Accreditation Program for Breast Centers, can provide you treatment, at any stage, in any part of the breast.
Our Multidisciplinary Program Includes:
Dedicated breast medical oncologists
Specialized breast pathologists
Breast surgeons
Radiation oncologists
Genetic counselors
Clinical research team
Cancer-focused retail pharmacists
High-risk breast care clinic
Palliative care and pain specialists
Holistic care specialists with expertise in integrative medicine
Nutrition specialists
Cancer-focused psychiatric support
Survivorship care and support