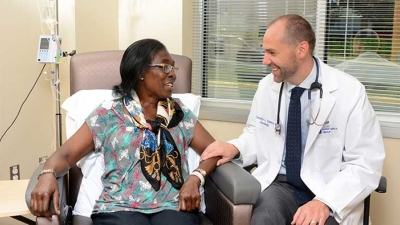 Inova Colorectal Cancer Program
Caring for colorectal cancer requires excellent, coordinated care from multiple oncology specialists. Our team of specialty trained colorectal surgeons, medical oncologists, and radiation oncologists work together to develop your personalized treatment plan.
Our care coordination is provided through a multidisciplinary approach through our partnership with Fairfax Colon and Rectal Surgery, PC®, along with our medical and radiation oncologists at the same location, all seeing new patients at the same time together. We know that this coordinated, multi-disciplinary approach leads to improved care coordination, faster times to treatment start, better patient experience, and better outcomes.
Often times, this plan will include cutting-edge treatments that are not offered at most cancer treatment centers. These include proton therapy, clinical trials, and non-operative management protocols when appropriate. In addition, we offer genetic counseling to assist you in navigating your current risk assessment and helping you determine which genetic testing options are right for you and your family.