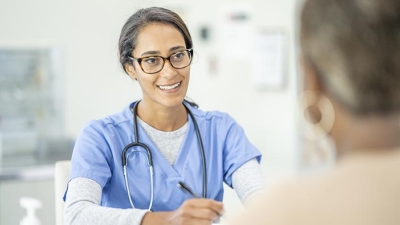 About Our Program
Inova offers comprehensive ostomy care, including two dedicated outpatient programs at Inova Fair Oaks Hospital (for pediatric and adult patients) and Inova Loudoun Hospital (adult patients only).
Patients receive specialized care from registered nurses with advanced training in wound, ostomy and continence (WOC) disorders.
Our nurses are part of a prestigious group of medical professionals who have graduated from an accredited program to earn their advanced WOC certification. In keeping with their commitment to patient care and education, they are recertified every five years.
Inova's Providers Assess and Treat the Following Peristomal Skin Complications:
Excoriation – red, weepy, possibly bleeding and sore areas of the skin
Rash – itching and redness around stoma, which may be caused by candida
Contact dermatitis – itching, burning or stinging, redness, and areas of moist skin surrounding the stoma
Ulcerations – red, weepy, and/or sore areas of the skin surrounding the stoma, which may be caused by disease process or improper use of barriers
Peristomal hernia – weakness in the abdominal wall that allows the bowel to protrude under the skin and appears as a bulge surrounding the stoma
Stoma retracted or flush with the skin – patient's barrier seal can be improved by changing pouch type or adding products
Body contour changes – patients are reevaluated and pouching system used is adjusted to increase wear time
Services Provided
In addition to clinical assessments and treatments, our ostomy care team provides:
Presurgical ostomy site marking
Presurgical education – patients will receive information regarding their specific type of ostomy and how to care for it. Patients will learn about pouching, as well as diet and lifestyle changes.
Postsurgical care – patients will receive written home instructions, educational materials and information on how to obtain supplies, including a description of the various pouching systems currently available.
Appliance fitting and adjustments – we offer assistance with difficult stomas. The goal is to maximize pouch wear time.