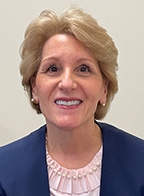 Deborah Fulbrook, Ed.M., MHS, BSN, RN, NEA-BC
Chief Nursing Officer
At Inova Fair Oaks Hospital our nurses are privileged to serve our patients and families with compassion and clinical excellence. Our Mission, Vision and Values are the foundation of our culture and allow each nurse to practice with full autonomy and empowerment.
Our pride in being designated as a Magnet Hospital since 2009 further strengthens our unwavering commitment to providing high quality and safe patient care. As a Magnet organization we assure nursing involvement in data collection and decision-making at all levels. Our Magnet nursing leaders value input and contributions of all nurses for them to be able to advance their practice and thrive in a healthy work environment.
A robust shared governance model and participative decision-making processes allow our nurses to further their professional growth and development and bring them from novice to expert nurse. We are committed to fostering opportunities to develop evidence-based practice projects and nursing research and have the outcomes and contributions of these efforts benefit our patients and families.
In 2022 we will again recognize nurses for their steadfast commitment, resilience and support for our patients, their families, and our community.
I am privileged and humbled to serve the nurses and team members of Inova Fair Oaks Hospital and remain committed to stand with them as they remain at the forefront in serving our community.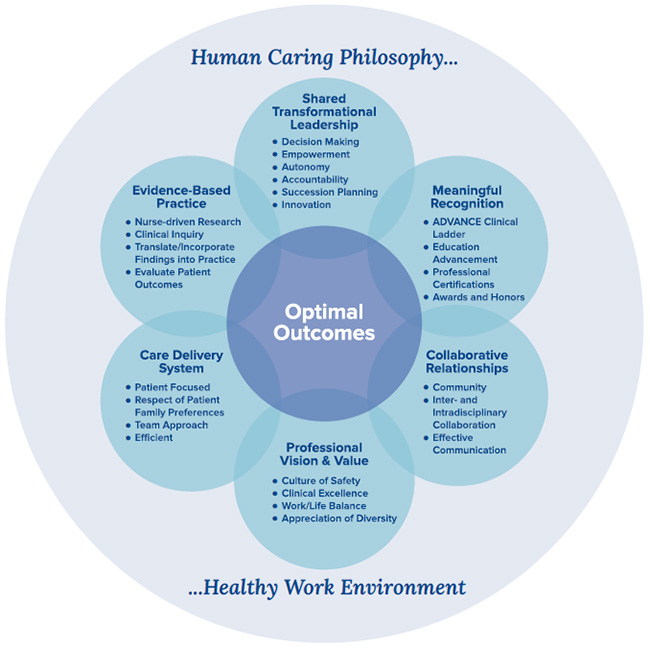 Nurses at Inova Fair Oaks Hospital are teachers, servant leaders, facilitators, consultants, change agents, coaches, researchers, clinical experts, and motivators.
As one team, we inspire and empower our nurses to perform at the highest level of professionalism to achieve and validate skills and confidence through engagement and feedback.
Our team orients, mentors, encourages, and guides transition to nursing practice at all levels at Inova Fair Oaks Hospital including:
New graduate nurses
Nurses changing specialty
New-hire proficient nurses
New nurse leaders
APRN transition to practice
Inova Nursing Purpose
At Inova, our nursing practice is grounded in connection, caring, compassion, and excellence through innovation, and the best evidence, in service to our patients, their families, our communities, and each other.
Inova Nursing Aspiration
Inova nurses aim to be the most trusted nurses in the nation.
Nursing Annual Report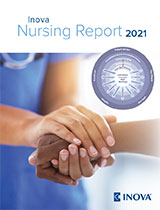 Download the Inova 2021 Nursing Annual Report for updated statistics, innovation highlights and more from around Inova Health System. 
Download Report
---
A Reputation for Excellence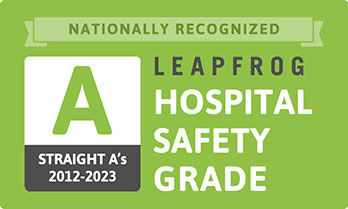 Inova Fair Oaks Hospital is a nationally recognized, advanced community hospital offering patients convenience and state-of-the-art care, including excellence in joint replacement, spine, stroke and bariatric surgery.
Patient Comments
"You guys are great! We have made it through some very difficult times, together!! I appreciate and respect all of you!"

See All Patient Comments
"I am so thankful for every nurse at Inova. You have been there to deliver my child (17 years ago) and help with various emergencies with my kids over the last 20 years! Thank you for all the hard work. I truly appreciate you."

See All Patient Comments
Advancing Excellence and Growth in Nursing
Teaching
Laura McNicholl, MS, RN, GERO-BC, PM-BC, Inga Rollins, BSN, RN, MPH, CPN, NPD-BC, and Priscilla Trewartha, DNP, RN, NPD-BC, prepare for a simulated learning exercise with nurses participating in the Nurse Residency program.
Presenting
Jennifer McCaughey, MSN, RN, BA, RNC-MNN, NPD-BC, CCE, leads team in disseminating evidence based practice project at the Inova Research symposium.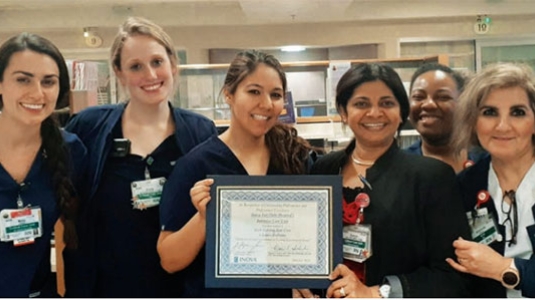 Deserving
The Intensive Care Unit celebrates recognition of outstanding patient experience and nursing outcomes.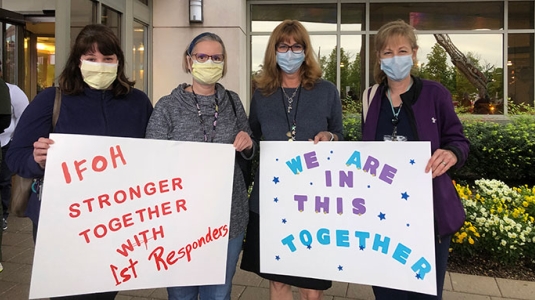 Giving
Marla Booker, BSN, MPH, RN, NEA-BC, and team celebrate community recognition during the COVID-19 pandemic.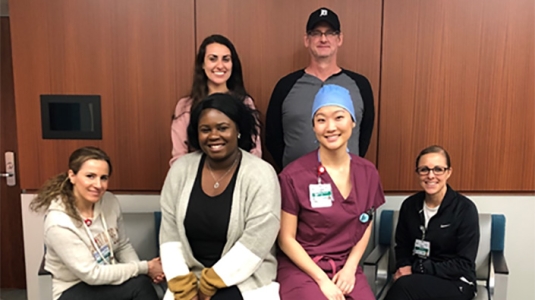 Learning and Growth
Members of the Nurse Residency Program who participate in year-long program to support the transition to the professional nursing role.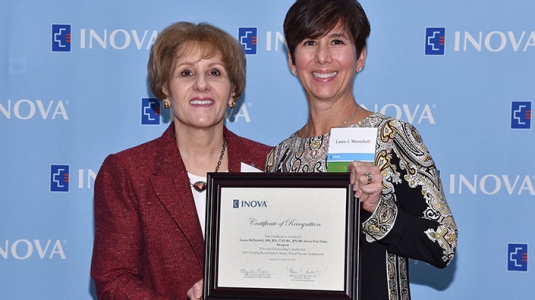 Advancing Patient Care
Laura McNicholl, MS, RN, GERO-BC, PMGT-BC, CCNS-BC, MEDSURG-BC, and Debbie Fulbrook, BSN, RN, MHS, E.d.M., NEA-BC disseminate research finding at the Inova Research Symposium.
Making a Difference
Meet a few of our nurses here at Inova Fair Oaks Hospital making a difference in the lives of our patients and healthcare.
Ashly McLean, BSN, RN, PCCN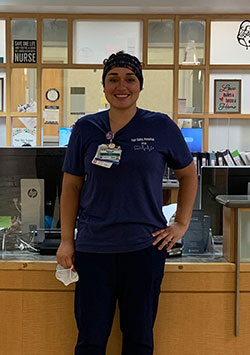 I started at Inova Fair Oaks Hospital as a new graduate RN in 2018 in the Progressive Care Unit. I then trained to become a Charge RN and now I am a Unit Supervisor for the unit. I have been lucky to have a great preceptor and mentoring through our leadership. I listen and value their guidance and they have been influential in my growth. I have been able to implement evidence-based practices and system-wide initiatives. I earned my PCCN certification through continuing education funding. Which allowed me to apply and achieve the RN 4 in our ADVANCE program.
Magnet to me means always striving for excellence. Maintaining a positive culture. The positive culture that we have developed at IFOH has enabled growth, and patient excellence, and enables our nurses to reach their highest potential within their careers. An engaged nurse is reflected at the bedside which means positive patient results.
Michelle Rosenberger, BSN, RN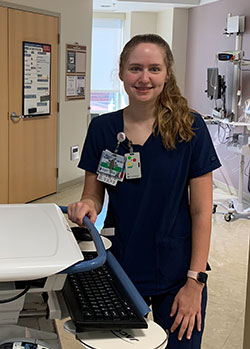 I started as a new graduate RN in October 2020 in the Surgical Unit. This unit has been great to begin my career. Everyone is open and gives help when it is needed. I was able to participate in the Nurse Residency program, which gives you the opportunity to speak to other new graduate RNs within the hospital. It has allowed me to get to know other nurses who are going through the same things in this stage of their careers. The New Grad Residency Program gave us an opportunity to work on an evidence-based project. I really appreciate the bridge from student to clinical nurse and putting the skills we learned into real-life practice.
I chose Inova Fair Oaks Hospital because they have several Centers of Excellence. We want to provide the best care and support for patients. Most surgical patients are choosing to have their surgeries with us because of the great reputation we have.
Being a magnet nurse at IFOH is an honor. You want to strive to continue to improve and learn. I recently started precepting and want to help new team members who come on board. I want them to feel supported like how I felt when I first started. I always try to be the best that I can be for the patient each time.
Blen Kebede, BSN, RN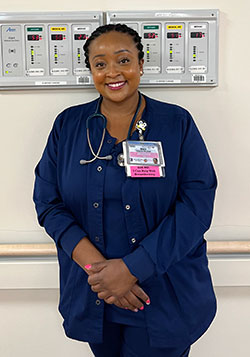 I came to Inova Fair Oaks Hospital after working in Medical Surgical and Home Health nursing. I wanted to pursue Postpartum nursing. I love the family feel we have at IFOH. I knew when I interviewed that this is where I wanted to be. I enjoy being able to teach parents new skills so that they can be confident in caring for their baby. Even with families that have multiple children, you can always teach something new to them. I like being able to make a difference in families' lives.
At IFOH we have a lot of autonomy. Leadership wants our input. We can contribute to our protocols and policies by finding the research of best practice for our patients. We have been designated and redesignated as a Magnet facility, which speaks to the quality and excellence of care we provide.
Patients are entrusting us with their care and lives. I treat all my patients like I would want my family members to be treated. I like treating my patients like my friends or family who have come to my house, our hospital, make them feel comfortable and build that trust.
Randall Brownlee, BSN, RN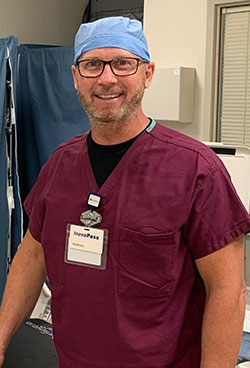 I have been a nurse at Inova Fair Oaks Hospital for more than five years. I started as a system float pool nurse and came to Inova Fair Oaks and train in the Interventional Radiology Department. After working here I decided to make IFOH my permanent home. I love the culture of the hospital and the physicians are incredible. I feel very connected to this organization and incredibly supported by the nursing leadership team. It starts with our Chief Nursing Officer Deb Fulbrook, to the positive influence of our director, Adam Litvin. The leadership here is fantastic and genuine.
Courtney Bryan, MSN, RNC-NIC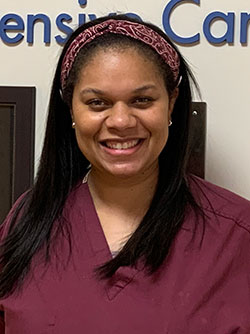 I came to the NICU at Inova Fair Oaks Hospital in 2011. It is like family here where every team member makes an effort to support each other. It is a safe learning environment and the nurses are highly motivated.
I am on the ADVANCE committee and what I love about participating in this committee is hearing about all the great work done throughout the hospital. ADVANCE recognizes all the work our nurses do. It empowers nurses to take ownership of roles and initiatives. We have highly skilled nurses who value evidence-based practice, prioritize safety, and are knowledgeable. We do all we can to give excellent patient care.
Jinal Gandhi, BSN, RNC-NIC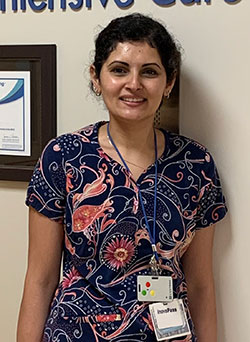 Jinal was nominated and won the 2022 Nursing Excellence Award for Clinical Practice. Jinal is a highly engaged team member. She is involved and leads unit initiatives. Jinal is passionate about preventing pressure injuries amongst our tiniest patients. She has been instrumental in ongoing unit education for patients on Bubble Continuous Positive Airway Pressure (BCPAP). Through her leadership in educating her colleagues on BCPAP placement on NICU infants, no pressure injuries have occurred.
Jinal is also the lead for the Percutaneously Inserted Central Catheter (PICC) team in the NICU. She is vigilant about infection prevention and holds herself and her colleagues accountable. The NICU boasts a Central Line-Associated Bloodstream Infection (CLABSI) rate of zero.
"It is an honor to be a nurse and to be part of this team. Everyone is so nice and supports each other well. My co-workers help enhance my skills and make me push myself to be the best I can be."
Laura McNicholl, MS, CNS-BC, MEDSURG-BC, PMGT-BC, GERO-BC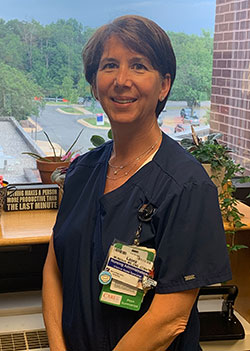 I have been a nurse for thirty-five years, thirteen of those years at Inova Fair Oaks Hospital. When we relocated to the area I had been looking to work at a Magnet facility, which was really important to me. Magnet means nurse-sensitive indicators are better than the national benchmark and have great patient outcomes. It reflects the professional nurses that we have here.
I love the teamwork and the willingness to try new things here at our hospital. In healthcare, we need to be open-minded and flexible. I am part of the Research and Evidence-based Council and we have produced many great projects. For example, we are currently working on the use of aromatherapy in decreasing nausea in the post-op bariatric patient population. I had gotten the idea from a previous Magnet conference that I attended. I applied to the Inova Research & Evidence-Based grant for funding. Once I received the grant, I wrote a protocol for the study and submitted it for approval to the FDA and the Institutional Review Board. The study officially began in April 2021. I am grateful for the support of leadership. Once the study is completed, we hope to be published and disseminate the information at a bariatric surgery conference.
Inova Fair Oaks Hospital is a unique facility, where the nurses do their best. Everyone wants to provide the best patient care. The leadership team is very sincere and when they say they're going to make a change they deliver it. I am proud to be a nurse here!
Andrew Martin MSN, RN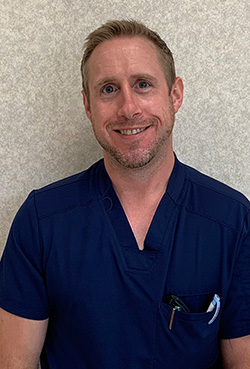 I joined Inova Fair Oaks Hospital CDU seven years ago and currently am part of the Float Pool team. I love the ability work in a variety of units and the critical nature of the assignments. Working in the Float Pool allows me to gain versatility and at a moment's notice I can be utilized in the Emergency Department.
In my role I have the chance to connect with so many people throughout the hospital. We are all one team and support one another. To me, Magnet means supporting team members to achieve higher levels of patient care, excellence, and giving team members the opportunity to advance themselves. We are always collaborating among nursing and physicians and we learn from each other.
Rene Zelkin, MA, BSN, RNC-OB, C-EFM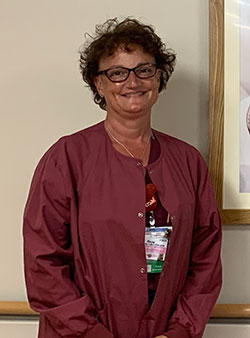 I have been with Inova for thirty-four years and at Inova Fair Oaks Hospital since 2010. IFOH is focused on quality and patient care. They listen to the team members and involve them with decisions on how they care for their patients. Leadership at IFOH is incredibly supportive. I can bring forward an idea or concern and it is brought to the next level and addressed immediately. That is because our leadership values what we have to say.
Magnet to me is a grassroots effort where the clinical nurse has a voice. Our statistics at IFOH are phenomenal. This is in part to our nurses attending continuing education classes, like the Spinning Babies class. The physicians and midwives partner with us to educate the patients and the staff is invested in different techniques for a safe and healthy delivery. We also collaborate very well with our sister unit, Postpartum. For example, the Postpartum team use donor human milk with their hypoglycemic babies, and we have been able to bring that initiative here in Labor and Delivery. This helps prevent the baby's blood sugar from decreasing further and oftentimes gets it to a desirable level so that the baby can still be with the mother. I love this hospital, and it is a great place to work!
Shahnaz Imani, BSN, CCRN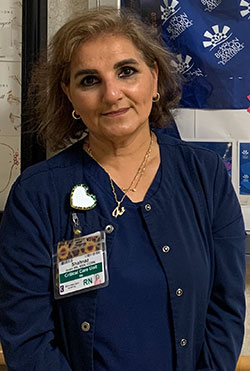 I have been here at Inova Fair Oaks Hospital since 2008. After I earned my CCRN, I asked myself what was the best way to educate myself for my patients? I decided to return to school and I earned my BSN. Once I achieved that, I applied to become an RN 3 and now I am proud to say that I am an RN 3 as well. Earning my BSN helped me to better educate patients to improve core measures. When you explain to patients in a straightforward format it is better for them to make it easier and understandable.
My coworkers are fantastic, and we have a great team. The environment you work in is crucial. We have taken new nurses into our unit, and it is so important to guide and coach them. Nurses need to do their best for safe patient care.
Jennifer McCaughey, MSN, BS, RN, RNC-MNN, NPD-BC, CCE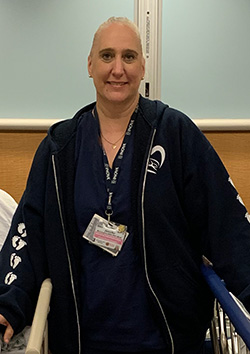 I began working at Inova Fair Oaks Hospital in 1999 as a clinical nurse in the Postpartum unit. While working in Postpartum, I took on the role of Charge RN and acted as a preceptor to new hires. In these roles I was inspired to return to school and graduated in 2015 with a degree in nursing education. Currently I am the Clinical Educator for the Women's and Children's Service Line.
In 2022 I was the New Knowledge & Innovation Award recipient and I am the facilitator for Inova Fair Oaks Nursing Research and Evidence-Based Council where we promote evidence-based nursing care through the work.
Bringing new knowledge to team members who are caring for our patients is essential and at Inova Fair Oaks Hospital nurses have a lot of autonomy. We are welcomed to be part of the decision-making process. Through the Shared Governance model, our nurses are empowered and have a voice.