Stroke Outcomes
We are committed to providing the highest quality healthcare for our patients who have experienced a stroke. We compare our outcomes to other hospital systems and to help us keep our services and standards at a high level.
January 1 to December 31, 2019
Inova Fairfax Hospital
Mortality rate of patients electively treated for cerebral aneurysm: 0%
Diagnostic cerebral angiogram serious complication rate: 0%
Carotid stenting 30 day mortality and stroke rate: 0%
Stroke Quality Measures
Across all five of our Inova hospitals, we participate and have earned awards in the American Heart Association/American Stroke Association's Get With The Guidelines® program: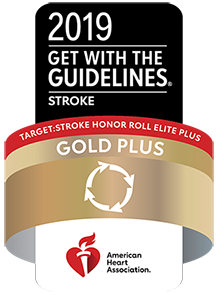 Get With The Guidelines is a nationally recognized program designed in collaboration between the American Heart Association and the American Stroke Association to improve the treatment given to people who have had a stroke. Hospitals are measured against the treatment standards established by the program. These awards demonstrate Inova Health System's commitment to ensuring stroke patients receive the most appropriate treatment according to nationally recognized, research-based guidelines based on the latest scientific evidence.