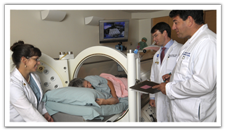 Hyperbaric Oxygen Therapy(HBO)  is a highly effective, safe treatment during which 100 percent oxygen is inhaled by a patient for short periods of time in a pressurized chamber. As part of your overall medical care plan, HBO can help treat a variety of conditions including non-healing wounds for patients with diabetes chronic radiation injury, compromised grafts and flaps as well as 12 other specific conditions. 
HBO Locations
Available at Inova Mount Vernon and Inova Fair Oaks Hospitals, HBO is covered by insurance to treat 14 FDA approved conditions. Hyperbaric consultations are available in-person and via telemedicine at the Woodburn, Fair Oaks and Mount Vernon sites. Contact any of our Wound Healing Centers to learn more about our HBO program. 
About Our Treatment Program
Our Mount Vernon location was the first in Northern Virginia to offer HBO treatment, and is the only program in Northern Virginia accredited by the Undersea & Hyperbaric Medical Society. Not only are we one of only 600 programs in the United States to carry this quality accreditation, but in 2015 we had the honor of being named among the best of the best when we achieved our re-accreditation, "With Distinction."
What Makes Our HBO Services Superior
30 years of experience in HBO
Over 30,000 treatments performed
Proudly accredited by the Undersea & Hyperbaric Medical Society
Hyperbaric oxygen therapy (HBO) is available Monday through Friday, 9 a.m. to 5 p.m.
HBO Physician Expertise
Our Medical Director, David Charash, DO, is board certified in Undersea and Hyperbaric Medicine, and Emergency Medicine and leads our team of specialists
View Our Team