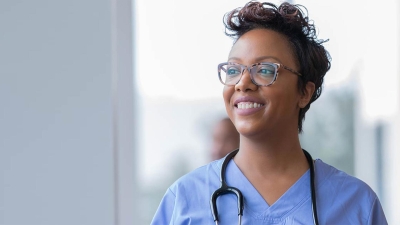 Why Join Inova?
Your Future. Our Inova.
In the ever-changing world of healthcare, we must constantly better ourselves in order to provide world-class care to our patients. At Inova, you will be empowered to:
Bring your whole, authentic self to work and thrive every day
Own your growth by pursuing a fulfilling career path that challenges you
Make an impact in a way that matters to you
Help shape our future by sharing your fresh, innovative ideas
We take pride in delivering results and celebrate our team members' contributions to advancing care. Learn alongside talented colleagues who care for each other while leveraging our leading reputation and best-in-class resources. At Inova, you can accelerate your growth and reach your fullest potential as we build something extraordinary together.
Your future. Our Inova.
Inova is an Anti-Racist, Anti-Discrimination Health System
Racism is a public health crisis that continues to damage our communities, patients, families and team members. Systemic racism perpetuates inequities in education, employment, housing, environmental quality, nutrition, health, and, of course, healthcare. All of these create barriers to living a full and healthy life.
At Inova, we denounce racism and discrimination in all forms.
In keeping with our mission to provide world-class healthcare to every person in every community we have the privilege to serve, Inova commits to continuing our active role in advancing long overdue change toward anti-racism and anti-discrimination. This includes continuing to critically examine and address our own systems and outcomes, partnering with our communities on actions that promote and support health equity, and advocating efforts for broader change.
Additionally, we have zero tolerance for racist or discriminatory behavior at any Inova facility. Anyone witnessing or experiencing an incident should report it immediately to Inova staff or security. We reserve the right to discharge violators and revoke visitation privileges.
Inova's Anti-Discrimination Employment Policy
Inova Health System is committed to equal employment opportunity and affirmative action. To fulfill this commitment, Inova Health System does not discriminate in any employment-related decision and administers all of its employment programs, procedures and practices without regard to age, color, disability, gender identity or expression, marital status, national or ethnic origin, political affiliation, pregnancy (including childbirth, pregnancy-related conditions and lactation), race, religion, sex, sexual orientation, veteran status, genetic information. Inova operates both affirmative action and equal opportunity programs, consistent with federal and state requirements, including Governor's Executive Order One (2018). Consistent with federal and state requirements, Inova also prohibits retaliation against any person who files a charge of discrimination, participates in a discrimination proceeding, or otherwise opposes an unlawful employment practice.
Inova's Anti-Harassment Policy
Inova defines harassment as any unwelcome conduct, behavior, speech or action, whether verbal, physical, or visual, that is based upon a team member's protected status, such as age, sex, color, race, ancestry, religion, genetic information, national origin, medical condition, physical or mental disability, marital status, pregnancy, childbirth or related medical conditions, veteran status, sexual orientation, gender identity or expression, citizenship status, or protected status. Harassing behavior has the potential to interfere with a team member's work performance or to create an intimidating, hostile or offensive work environment.