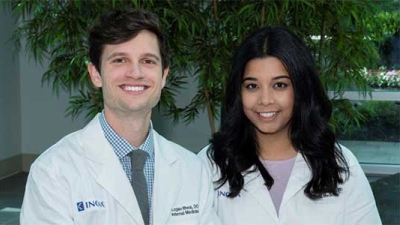 Internal Medicine Chief Residents
Dr. Nibras Chowdhury is from Miami, Florida. She attended the University of Miami, where she double majored in Political Science and Microbiology, then obtained her medical degree from Florida International University's Herbert Wertheim College of Medicine.
Dr. Logan Rhea is from Burke, Virginia. He majored in chemistry at the University of North Carolina Wilmington, then pursued his medical degree at the Edward Via Virginia College of Osteopathic Medicine in Blacksburg, Virginia.