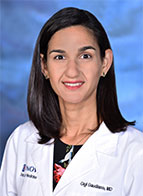 Dear Prospective Residents,
Thank you for your interest in the Internal Medicine Residency Program at Inova Fairfax Medical Campus.
Inova Fairfax Medical Campus Department of Medicine, with over 35 years of teaching experience and cutting edge technology, trains tomorrow's experts today. IFMC has a long-standing tradition of commitment to medical education; we are home to Virginia Commonwealth University School of Medicine's branch campus and, in the past, we have been a major affiliate for inpatient rotations of categorical residents from Georgetown and George Washington University Internal Medicine training programs. Our teaching faculty members have faculty appointments with our affiliate medical campuses and have received many teaching awards.
Our ultimate goal is to position our trainees in a structured and robust educational experience, becoming outstanding comprehensive internists, capable of managing diverse patients with a broad range of diseases. We will assist your development of medical knowledge and skills, professional attitudes and behaviors, and approach to problem solving and concern for your patients, which you will ultimately need to develop proficiently to become an outstanding internist or a sub-specialist. Our 923-bed medical campus serves Northern Virginia and the Washington, DC metro area, offering our trainees a vast variety of medical conditions as well as an incredible diversity of patient population. Northern Virginia is growing aggressively, with current population of 2.8 million and expected increases each year. Despite the large population and the extensive growth of our hospital campus, our program fosters a meaningful connectedness and sense of belonging amongst residents, faculty and all staff — in addition to compelling clinical and academic achievement.
IFMC is extremely proud of the depth and diversity of its nearly 800-member and 13-section Department of Medicine; the physicians who form this foundation are comprised of experts who trained at our nation's top institutions. Our dedicated faculty are a testament to the strength of our department —as a majority of them forged their connections during their training with us as students or residents and returned to practice here. I know that once you explore our program and facilities, you will see that a world-class facility such as Inova Fairfax Medical Campus deserves the best team of residents. Thank you, and applications are accepted ONLY online via AAMC ERAS system.
Best regards,
Zehra Gaudiano, MD
Program Director