COVID-19 Impact on Delivery
Inova is safely leading the way to bring your little one, or ones, into this world. We are fully prepared for the current COVID-19 pandemic and continue to implement all infection prevention and control measures established by the Centers for Disease Control and Prevention (CDC) and state/local health agencies to provide the safest care environment. We'd like to tell you a bit more about your stay.
Download our virtual maternity tour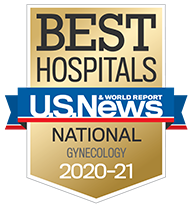 Inova Fairfax Hospital has been ranked #9 in the nation for Gynecology care in the annual U.S. News & World Report rankings.