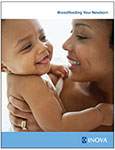 Breastfeeding Your Newborn
The choice to breastfeed is one of the most important decisions you will make for yourself and your baby. The International Board Certified Lactation Consultants® (IBCLC®) at Inova Alexandria Hospital are here to help you succeed and make breastfeeding a satisfying experience.
We are:
Sensitive to families' different cultural needs
Eager to "meet the mother where she is" during the breastfeeding experience
Available to help the mother plan for how to continue breastfeeding if she returns to the workplace
All services are by appointment. The breastfeeding center and lactation boutique is open Monday through Saturday, 10 a.m. to 2 p.m., and closed on Sunday.