Your Experienced Guide Through Pregnancy and Childbirth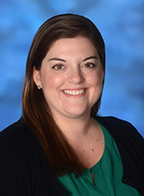 Kelly has nearly a decade of nursing experience, with over 5 years specializing in labor and delivery at Inova Alexandria Hospital. She is committed to collaborating with expectant parents, serving as a guide, advocate and friend. She is dedicated to providing individualized, patient-centered care.
At Inova, our goal is to help you feel confident throughout your pregnancy as you prepare for the big day. Kelly serves as a trusted resource for you and your family. She is happy to answer your questions and discuss any special needs or specific requests for your delivery.
Kelly graduated from Linfield College in Oregon with a bachelor's degree in business. After moving to the East Coast and working in the corporate world for several years, she answered her calling to the healthcare field. She graduated from Marymount University's Accelerated Second-Degree Bachelor of Science in Nursing program and has been fulfilling her passion for patient-centered care ever since.
In her free time, Kelly enjoys spending time with her husband and two-year-old son.