Coronary Artery Disease
Coronary artery disease (CAD) – also known as coronary heart disease – often results from the accumulation of fatty deposits or plaque within the coronary arteries. These fatty deposits may develop as early as in childhood and continue to thicken and change. This thickening, called atherosclerosis, narrows the arteries and can decrease or block the flow of blood to the heart.
The coronary arteries supply blood to the heart muscle. Like all other tissues in the body, the heart muscle needs oxygen-rich blood to function, and oxygen-depleted blood must be carried away. When the flow of blood through the coronary arteries to the heart is partially or completely blocked, serious problems such as a heart attack can occur.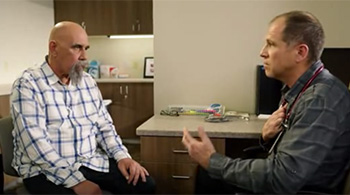 What are the symptoms of coronary artery disease?
The symptoms of CAD will depend on the severity of the disease, but often include chest pain called angina.
How is coronary artery disease treated?
Inova Heart and Vascular Institute is a leading healthcare provider for patients with coronary artery disease, providing an array of treatments depending on the progression of the disease.
Specific treatment will be determined by your physician based on:
Your age, overall health and medical history
Extent of the disease
Your tolerance for specific medications, procedures or therapies
Expectations for the course of the disease
Your opinion or preference
Lifestyle modification and medication can be helpful in the early stages of the disease. Other treatments include:
Diamondback 360® coronary orbital atherectomy system (OAS)
Percutanious coronary intervention, also known as balloon angioplasty, is a common, very successful treatment to open blocked arteries. During the procedure, a catheter with an inflatable balloon at the tip is threaded into a blocked heart artery. The balloon inflates, compresses the blockage and opens the narrowed section of the artery to improve blood flow.
Coronary stent implants are widely used to hold open previously blocked arteries
Coronary artery bypass graft surgery (CABG) may be necessary for advanced cases of coronary artery disease
Ask An Inova Expert
How Signs and Symptoms of Heart Disease Differ for Men and Women