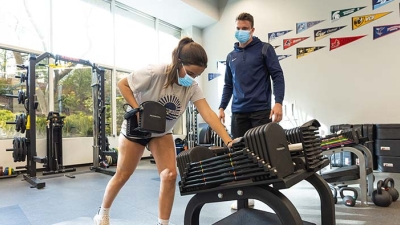 Inova Sports Performance powered by Healthy Baller
Inova Sports Performance powered by Healthy Baller offers performance training to athletes of all ages and levels. Individual, group, and team training options are available, and all have the common goal of helping athletes reach their highest levels of performance, while staying healthy and moving well.
In addition to the support from Healthy Ballers' performance specialists and performance nutritionists, you will also have access to Orthopedic Surgeons and Primary Care Sports Medicine Physicians, along with Physical Therapists at Inova Sports Medicine.
Our Programs
Performance Training – 1 on 1
For those who need our most customized program based on individual needs or working around previous injuries/limitations
Performance Training – Semi Private
Each athlete is provided an individualized program, however, the group dynamic creates a more competitive environment. Athletes are normally paired based on common needs or training focus. Two to four athletes in a group.
Performance Training – Team
Individual teams and youth clubs/organizations can contract Healthy Baller to create performance programs specific to the needs of the team. These sessions are available at Healthy Baller or off-site at a location convenient to the team. Healthy Baller performance coaches can travel and provide a high-quality training service off-site.
Adult Personal Training
Our experienced trainers will create a custom program designed to push you forward and crush your fitness goals. Programs can include anything from athletic performance and weight loss to injury prevention and post rehab exercises. We are here to help you meet all of your fitness needs.