Choosing to breastfeed your infant is a very important decision. Our staff is supportive and skilled in helping breastfeeding mothers and infants, sensitive to families' different cultural needs, eager to "meet the mother where she is" during the breastfeeding experience, and available to help the mother plan for how to continue breastfeeding if she returns to the workplace.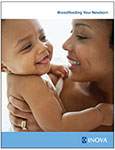 Breastfeeding Your Newborn
Recognized for Our Lactation Care and Expertise
We are proud to have once again earned the Care Award from the International Board of Lactation Consultant Examiners.
This means we employ only certified International Board Certified Lactation Consultants (IBCLCs) and have a dedicated lactation support program available 5-7 days a week. We also have demonstrated that we provide training for our nursing, medical and other staff that care for breastfeeding families, and have implemented special projects that promote, protect and support breastfeeding.
Our commitment is to support your decision to breastfeed your baby. Inova Loudoun Hospital's international board-certified lactation consultants are here to support your decision to breastfeed with counseling, education, support and supplies. Board-certified lactation consultants provide the following services:
Basic position and latch of the infant
Information about practices that promote successful breastfeeding
Preventing and managing common concerns such as poor latch, inadequate milk transfer or supply, nipple or breast pain and calming a fussy baby
Milk expression and storage for mother who must be separated from their babies
Strategies for breastfeeding after returning to work
Breastfeeding in challenging situations, such as breastfeeding twins or triplets, premature or sick infants, or infants in special medical situations
All outpatient services are available by appointment.
A Larger Space to Serve You Better
We are pleased to announce that we have a newer, larger area with a centralized location for education, support/consultations and supplies. Highlights include:
Double the space
4 private consultation rooms
Dedicated educational meeting room
Expanded breastfeeding supply offerings (birthing gowns, more brands of nursing bras, abdominal binders, etc.)
Virtual Breastfeeding Support Group
Meets every Wednesday at 12:30 p.m. Register to join here.