The Right Wound Healing Treatment for You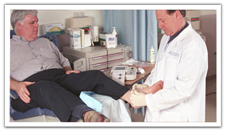 We develop individualized treatment plans based upon your unique needs. Our team of specialists have more than 13 years of dedicated focus and commitment to wound care. When you require wound care expertise, experience matters.
As part of your evaluation, you will receive:
Comprehensive consultation with a wound healing specialist
Thorough assessment of your wound, including measurement and a digital photograph
A customized treatment plan with a multispecialty approach to promote maximum healing
Complete education and instructions on how to care for your wound at home between visits
Learn More About the specialized treatments we offer for difficult and non-healing wounds
Services Offered
Comprehensive wound assessments
Advanced Wound Dressings
Negative Pressure Wound Therapy
Bioengineered Tissue
Debridement
What to Expect
Whether you are visiting us for wound care or HBO therapy, we are committed to successfully healing your complex wounds and ultimately improving your quality of life.
At the time of your first appointment, you will be given a thorough diagnostic examination to identify the type of wound you have and the underlying problems causing it. Once this diagnosis is made, a multi-specialty, holistic approach specifically tailored to your needs and based on the most effective treatment options available will be initiated.
During your treatment, you will visit the center on a regular basis for, in some cases, up to or exceeding 12 weeks. Treatment options via telemedicine may be initiated when appropriate and if desired. Your care team will provide you with comprehensive education about how to care for your wound between visits, as well as how to protect your wound from further injury. Our team of experts will partner with your home health agency, if applicable, in the execution of your treatment plan between visits.