Faculty Biographies
Fairfax Family Practice's Residency Program has a faculty that is dedicated to your education and experience.
Resident Life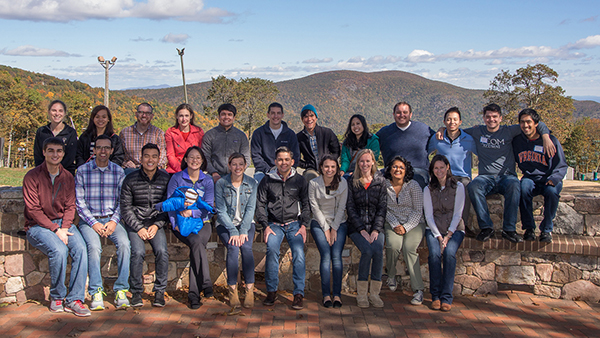 The longitudinal curriculum at VCU-Fairfax Family Medicine promotes an adult learning environment that provides residents the opportunity work and think independently in a collegial environment with both educational and social support. Although the program is rigorous, faculty works with residents to achieve the balance that allow a lifetime of learning and practice.
The program has adopted an intentional approach to fostering a collegial work environment. Through the Chief Residents and Resident Business Meeting, residents actively participate in curriculum, policy and business development. Each resident is assigned a personal faculty advisor to monitor and assist both academic and professional development. The Program director regularly attends class meeting and is available for individual consultation. There are multiple social activities every year which residents and faculty attend together, including:
New intern welcome picnic
Resident Retreat: 3 day weekend retreat to Wintergreen Resort
White elephant winter holiday party
Spring picnic & Bar-B-Q
Graduation dinner
Resident classes are encouraged, through regularly scheduled class meetings, to develop supportive relationships. Resident classes tend to bond and form strong lasting relationships, providing social support for the challenging task of becoming accomplished Family Physicians.
The residency, located in the diverse Northern Virginia area, has access to the amenities of a multicultural community. Restaurants, theatre, arts, shopping, spousal employment, volunteer opportunities, excellent schools, recreational and competitive athletics, amateur and professional sports are all available to residents and their families.
The Fairfax County government (www.fairfaxcounty.gov) offers a wide variety of services for county residents. Located just outside Washington DC, the residency also enjoys proximity to the energy and excitement of the Nation's Capital.
First Year Residents
Caroline Crowe, MD
Wake Forest University
Helen Evans, MD
Georgetown University
Charles Fencil, MD
Drexel University
Lauren Joseph, MD
West Virginia University
Vivian Lam, MD
Virginia Commonwealth University
Natnari Linwong, MD
Columbia University Vagelos College of Physicians and Surgeons
Camilla Maybee, MD
George Washington University
David Murray, MD
Tufts University
Nelya Nemcek, MD
UC Davis
---
Second Year Residents
Elizabeth Flory, MD
George Washington University School of Medicine
John Grimsley, MD
Georgetown University
Andrew Lam, MD
University of Virginia
Lisa Li, MD
University of Virginia School of Medicine
Michael Lopoukhine, DO
Edward Via College of Osteopathic Medicine
Christian Machado, MD
Virginia Commonwealth University
Samantha Stuek, MD
New York Medical College
Sukruti Udeshi, MD
Virginia Commonwealth University
Meet Our Second Year Residents
---
Third Year Residents
John Andrea, DO
University of New England College of Osteopathic Medicine
Frances Ding, DO
Rowan University School of Osteopathic Medicine
Kendall Hancock, MD
Virginia Tech Carilion School of Medicine
Evangelia Tsapos, DO
Virginia College of Osteopathic Medicine
Salary and Benefits
Our Residency Program starting salaries are as follows:
1st Year: $63,824.06
2nd Year: $64,745.46
3rd Year: $68,420.36
Fellow: $71,279.19
Benefits Include:
Insurance:
Malpractice: Interns are covered by Inova Fairfax Hospital. Second and third year residents are covered by Fairfax Family Practice.
Health: A substantial portion for interns is covered by Inova Fairfax Hospital, including eye and dental examinations. Interns are responsible for a nominal portion of the premiums. Dependents may receive benefits at extra cost. Second and third year residents receive coverage through Fairfax Family Practice. Dependents may receive benefits at extra cost.
Life Insurance up to base salary, with option for additional insurance.
Optional disability insurance available.
Vacation: 21 days off during the year for vacation, maternity, sick leave, or bereavement. Six holidays observed—not guaranteed: treated for call and scheduling purposes like a weekend day.
Educational Stipend: Funds are provided for educational purposes, such as attending conferences or purchasing books and are awarded with prior faculty approval.
First Year: $600
Second Year: $400
Third Year: $400