U.S. News & World Report: Among the Best in Washington, DC Area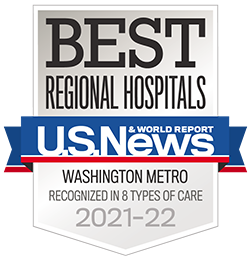 For the 2021–2022 awards year, Inova Alexandria Hospital has earned the distinction of #7 Best Hospital in the Washington, DC metropolitan region (tied with Inova Loudoun Hospital), and the #13 Best Hospital in the state of Virginia.
High Performing in Clinical and Surgical Areas
U.S. News & World Report also has ranked Inova Alexandria Hospital as "High Performing" for the following specialty areas or procedures:
Colon Cancer Surgery
COPD
Diabetes Care
Heart Failure Treatment
Kidney Failure Treatment
Knee Replacement
Pneumonia Care
Stroke Care
About U.S. News "Best Hospitals" rankings
For the 2021-22 rankings and ratings, U.S. News evaluated more than 4,750 medical centers nationwide in 15 specialties and 17 procedures and conditions. In the 15 specialty areas, 175 hospitals were ranked in at least one specialty. In rankings by state and metro area, U.S. News recognized hospitals as high performing across multiple areas of care.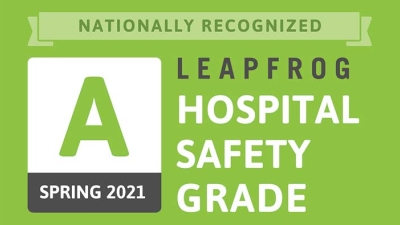 "Straight A's" in Hospital Safety
In April 2021, Inova Alexandria Hospital was again awarded an "A" from The Leapfrog Group's Hospital Safety Grade, marking straight "A's" for the sixth consecutive grading period. This designation recognizes our efforts in protecting patients from harm and meeting the highest safety standards in the United States.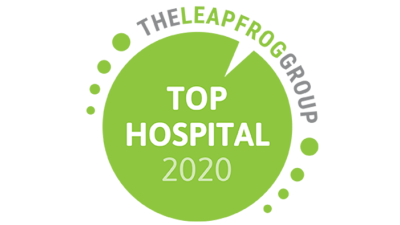 National Award for Quality
In November 2020, highlighting our nationally recognized achievements in patient safety and quality, Inova Alexandria Hospital was again named a Top General Hospital by The Leapfrog Group for the second year in a row.
Performance across many areas of hospital care is considered in establishing the qualifications for the award, including infection rates, maternity care, and the hospital's capacity to prevent medication errors. The rigorous standards are defined in each year's Top Hospital Methodology.