Inova Fair Oaks Hospital has again been rated 5 out of 5 stars (the best possible rating) in the most recent Centers for Medicare & Medicaid Services (CMS) Five-Star Quality report.
Inova is the only health system in the country comprised of more than 3 hospitals where all are 5 star rated.
CMS, the top health agency of the federal government, created the Five-Star Quality Rating System as an evidence-based evaluation reflecting a hospital's standard of care. The rating system is based on quality measurements that have real meaning for patient health and well-being, including safety, timeliness and effectiveness of care.
Read More
"Straight A's" for Hospital Safety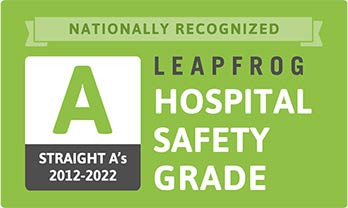 Inova Fair Oaks Hospital has again been awarded an "A" from The Leapfrog Group's Hospital Safety Grade, marking straight "A's" since 2012. This designation recognizes our efforts in protecting patients from harm and meeting the highest safety standards in the United States.
The Leapfrog Group is a national organization committed to improving the healthcare quality and safety for consumers and purchasers. Leapfrog Hospital Safety Grade uses 30 measures of publicly available hospital safety data to assign grades to more than 2,700 U.S. acute-care hospitals twice per year. It is peer reviewed, fully transparent and free to the public.
National Award for Quality
Highlighting our nationally recognized achievements in patient safety and quality, Inova Fair Oaks Hospital has been named a Top Hospital by The Leapfrog Group for 2021.
Performance across many areas of hospital care is considered in establishing the qualifications for the award, including infection rates, maternity care, and the hospital's capacity to prevent medication errors. The rigorous standards are defined in each year's Top Hospital Methodology.
U.S. News & World Report: Among the Best in Washington, DC Area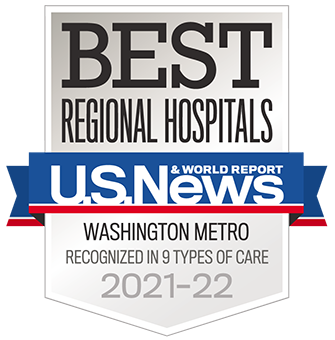 U.S. News & World Report has again ranked Inova Fair Oaks Hospital #4 in the Washington, DC metro area and #10 in the state of Virginia.
High Performing in clinical and surgical areas
In addition, Inova Fair Oaks Hospital was recognized with high-performing ratings in the following specialties and common adult procedures/conditions:
Back Surgery (Spinal Fusion)
Colon Cancer Surgery
COPD
Geriatrics
Heart Failure Care
Hip Replacement
Kidney Failure Care
Knee Replacement
Maternity Care
Pneumonia Care
About the U.S. News "Best Hospitals" Rankings
The U.S. News Best Hospitals analysis reviews hospitals' performance in adult and pediatric clinical specialties, procedures and conditions. Scores are based on several factors, including medical outcomes such as survival, patient experience, nurse staffing and more. Hospitals are ranked nationally in specialties from cancer to urology and rated in common procedures and conditions, such as heart bypass surgery, hip and knee replacement and COPD. Hospitals are also ranked regionally within states and major metro areas so you can find the best hospital near you.