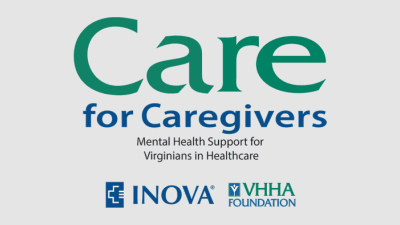 Care for Caregivers
Brought to healthcare workers who work in Virginia, by a partnership with Inova Health System and Virginia Hospital & Healthcare Association Foundation (VHHAF) through a Virginia Department of Behavioral Health and Developmental Services (DBHDS) funded award from Substance Abuse and Mental Health Services Administration (SAMHSA) Emergency Grants to Address Mental and Substance Use Disorders During COVID-19.
During the COVID-19 pandemic, it is common for anyone to experience higher levels of worry and stress. This is especially true for healthcare professionals and workers who strive to maintain excellence in patient care while handling their own COVID-19 concerns. Resources are available for mental health and emotional support by this Care for Caregivers Program. 
See below for a comprehensive list of services. 
Support For Those Working In Healthcare
Assessment
Comprehensive assessments are provided to help gauge your specific needs and direct you towards the appropriate services.
Individual Counseling
One-on-one therapeutic counseling with a licensed practitioner.
Limited Medication Management
Medication management is offered on a limited basis.
Group Counseling
Small group counseling sessions for individuals working in the same healthcare arena.
Webinars
Webinars are available on subjects such as compassion fatigue, resilience, mood assessment and management, and improving communication skills. These are prerecorded, usually 30 minutes in length, and will be accessible at your convenience 24/7. Additional topics are to be determined.
Access Webinars