Accreditations
Centers For Medicare & Medicaid Services (CMS) Accredited Lung Transplant Center
Inova Fairfax Hospital is CMS-approved for lung transplantation. The CMS Conditions of Participation (CoP)s for organ transplant programs became effective in 200. To be CMS-approved, organ transplant programs must be located in a hospital that has a Medicare provider agreement and meet both the transplant CoPs and hospital CoPs outlined by CMS. Learn more
Cystic Fibrosis Foundation Accreditation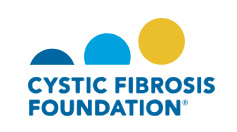 Inova Fairfax Medical Campus (IFMC) has been a Cystic Fibrosis Foundation (CFF)-accredited care center since 2017. CFF care centers provide expert care and specialized disease management to people living with cystic fibrosis (CF), which has led to improved length and quality of life for people with CF. The Adult Cystic Fibrosis Program at IFMC is a combined effort of the Advanced Lung Disease Program and Inova Children's Hospital—in partnership with the Pediatric Lung and Allergy Center. Read the original announcement
Pulmonary Fibrosis Foundation (PFF) Accredited Care Center

Inova Health System is a Pulmonary Fibrosis Foundation (PFF) accredited Care Center Network (CCN) site. The PFF Care Center Network (CCN) is a growing group of medical centers with expertise in accurately diagnosing and treating people living with PF. The CCN is comprised of centers that have the necessary resources and specialized staff to fully manage the disease. PF Care Centers embrace a multidisciplinary approach to provide the most comprehensive patient care. Experts in pulmonary medicine, rheumatology, radiology, pathology, and nursing specializing in interstitial lung disease comprise the care team at each PF Care Center. Learn more
Pulmonary Hypertension Association Accreditation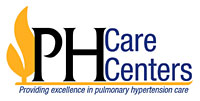 Inova Fairfax Hospital successfully met the stringent accreditation criteria of the Pulmonary Hypertension Association (PHA) to be named a Pulmonary Hypertension Care Center. Pulmonary hypertension is a rare and debilitating lung disease which, left untreated, can affect heart function and lead to heart failure. Inova's Pulmonary Hypertension Program has long been recognized for excellence in diagnosis, treatment and research for pulmonary hypertension. Read the original announcement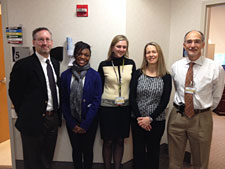 In 2014, Inova Fairfax served as the first pilot site to receive a site visit from PHA reviewers (photo to the right) as part of a nationwide accreditation effort to identify programs that provide the highest levels of expertise to effectively treat and manage pulmonary hypertension.
World Association For Sarcoidosis and Other Granulomatous Diseases (WASOG) Accredited Clinic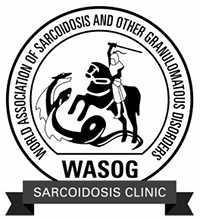 Inova Fairfax Hospital is a WASOG Sarcoidosis Center of Excellence. This designation provides formal recognition of our team's commitment to meet the needs of sarcoidosis patients and efforts to keep abreast of the ongoing advances and findings in the space. Our acceptance allows us to take advantage of the benefits WASOG offers to approved clinics including: notification of funding and opportunities to participate in research initiatives and collaborate with worldwide thought leaders. WASOG also partners with the Foundation for Sarcoidosis Research, the world's leading nonprofit organization dedicated to finding a cure for this disease and to improving care for sarcoidosis patients, which offers additional benefits to Inova and our patients. Learn More
Alpha 1-Antitrypsin Clinical Resource Center (CRC)
Inova is recognized as an Alpha 1-Antitrypsin Clinical Resource Center (CRC) by the Alpha-1 Foundation, for patients with this hereditary form of COPD. Learn more
Team Accolades
Dr. Steven Nathan, Medical Director, Inova Advanced Lung Disease and Transplant Programs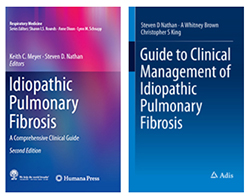 Dr. Steven Nathan is internationally recognized for his expertise in serious lung conditions. He is co-editor of two clinical handbooks on idiopathic pulmonary fibrosis that provide pulmonologists and other healthcare workers with an up-to-date review of the background and advances in the field: Idiopathic Pulmonary Fibrosis and Guide to Clinical Management of Idiopathic Pulmonary Fibrosis.
Dr. Nathan was named 2011 Clinician of the Year by the Metropolitan DC Chapter of the American Thoracic Society (ATS) and was nominated for the ATS National Clinician of the Year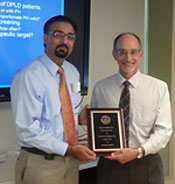 Dr. Nathan was a guest lecturer on pulmonary hypertension to medical staff at Texas Medical Branch (UTMB), Galveston. During the visit, UTMB's Director of Pulmonary Critical Care and Sleep Medicine, Gulshan Sharma, MD (left) recognized Dr. Nathan (right) for his contributions.
Jane Harrison, Inova Lung Transplant Program Social Worker
Jane Harrison, LCSW, CCTSW, social work manager was honored with "Hero" status by her peers in the Society of Transplant Social Workers in recognition of her dedication and commitment to the profession of transplant social work.
Jane is a founding member of the Society and continues to be an active leader. She has served on the Board of Directors as well as By-laws Chair, Abstract Chair and Conference Chair. She is currently Research Chair.