Expertise Meets Comfort and Care
Childbirth Services at Inova Women's Hospital
For expectant parents, all of our facilities at Inova Women's Center on the Inova Fairfax Medical Campus offer spacious and beautifully decorated, private labor-delivery recovery rooms designed with your comfort in mind, yet fully equipped with state-of-the-art technology in case of unexpected complications. 
Our nursing staff is made up of highly skilled clinicians with experience in obstetric care. In-house anesthesiologists and neonatologists/pediatricians are available 24 hours a day.
Nationally Ranked in Obstetrics and Gynecology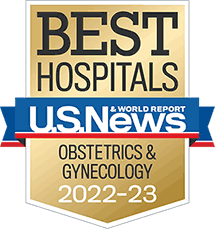 Inova Fairfax Hospital has been ranked in the top 10 hospitals in the nation for obstetrics and gynecology by U.S. News & World Report. This ranking recognizes Inova's excellence in outcomes, comprehensive services and patient satisfaction ratings for gynecologic care, gynecologic surgeries for benign and cancerous conditions, and maternity care offerings.