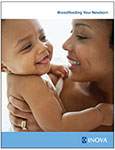 Breastfeeding Your Newborn
Board-certified Lactation Consultants Provide the Following Services:
Inpatient breastfeeding class, assessment and problem solving
"Fine Tuning Clinic" – private lactation consults, including weight checks, available for infants of all ages
"Warm Line" – breastfeeding advice over the phone
Breast pump information, rental and sales (including Medela and Ameda breast pumps)
Select retail items, including nursing bras and pads, nursing stools, feeding pillows, lanolin
Referral to community resources for further breastfeeding support
Choosing to breastfeed your infant is a very important decision. Our staff is supportive and skilled in helping breastfeeding mothers and infants. We are:
Sensitive to families' different cultural needs
Eager to "meet the mother where she is" during the breastfeeding experience
Available to help the mother plan for how to continue breastfeeding if she returns to the workplace
All services are by appointment. The breastfeeding center and lactation boutique is open Monday through Friday, 10 a.m. to 4 p.m., Saturday 10 a.m. to 2 p.m. and closed on Sunday.
Download the Inova Fair Oaks Hospital lactation brochure for more details