Diagnosis and Treatment
Our physicians identify each patient's type of arrhythmia and site of origin using the most advanced computerized 3-dimensional mapping equipment in our state-of-the-art electrophysiology labs. From here, we offer patients a full range of treatment options based on their unique needs, including the latest techniques, less invasive treatments, personalized medication, and emerging therapies through clinical trial partnerships.
Care Backed by Experience
Our team performs a high volume of procedures each year and brings a wealth of experience to your care. In 2020, we performed more than 1,300 ablations, 52 CIED lead extractions and implanted 1,747 devices.
| Ablation Volumes | 2020 |
| --- | --- |
| SVT Ablation | 574 |
| VT (Endocardial and Epicardial) Ablation | 137 |
| Afib | 590 |
| Ablation Procedures (Total) | 1,301 |
2020 = rolling 4Q, ending Q2 2020
---
| Device Implant Volumes | 2020 |
| --- | --- |
| Pacemakers | 808 |
| ICDs | 432 |
| Biventricular | 167 |
| Dual and Single Chamber | 244 |
| Subcutaneous | 21 |
| Watchman™ | 75 |
2020 = rolling 4Q, ending Q2 2020
Lead Extraction for Cardiovascular Implantable Electronic Devices: 52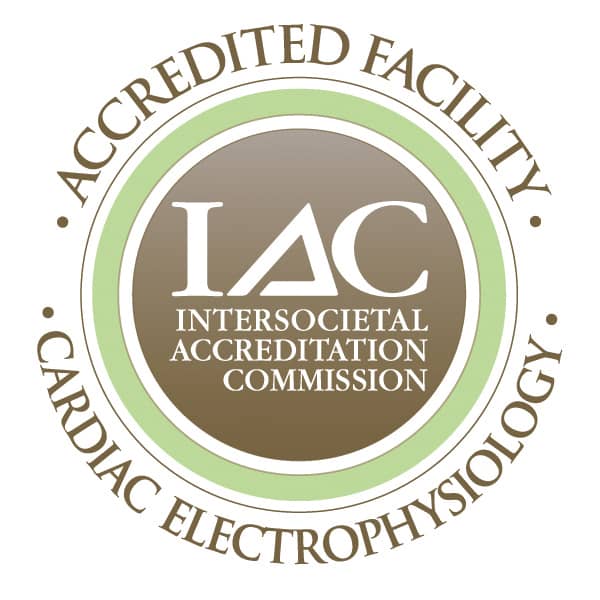 Accredited for:
Testing and Ablation
Device Implantation
Chronic Lead Extraction
Patient and procedural volumes for 2020 were impacted by a temporary suspension of elective procedures due to COVID-19 beginning in March through the end of May and the nationwide trend of decreased demand for services throughout the pandemic.
Treatment Options
Non-invasive Diagnostic Tests
Inova arrhythmia specialists perform a variety of non-invasive tests to help diagnose arrhythmias and continually monitor our patients' health including:
Echocardiogram
Self-Monitoring (Wearable) Devices
Lifestyle Modifications and Medications
Lifestyle modification for factors such as stress, caffeine or alcohol
Anti-arrhythmic medication to maintain normal heart rhythm
Beta blockers and calcium channel blockers to slow down rapid heart rates
Anticoagulant medications to help prevent blood clots
Procedures
Inova offers minimally-invasive and invasive procedures to help us diagnose issues and correct heart rhythms. Most patients can go home the same day.
Our physicians choose the best treatment depending on patients' arrhythmia severity and perform every procedure with great care. Our expertise and advanced technology also allow us to manage patients with multiple failed procedures successfully.
Catheter-based Ablation Therapy

AFib ablation
Atrioventricular (AV) node ablation
Cryoballoon ablation (Cryoablation)
Fluoroless ablation
Focal Impulse and Rotor Modulation (FIRM) mapping and ablation
Premature ventricular contraction (PVC) ablation
Supraventricular tachycardia (SVT) ablation
Ventricular tachycardia (VT) ablation

Maze and hybrid catheter surgical ablation procedures

Maze with or without valvular surgery
Left Atrial Appendage Ligation
Non-invasive Ventricular Tachycardia Ablation (radiation therapy)
For patients who continue to experience AFib following treatment using catheter ablation, we offer convergent procedures which integrate minimally invasive surgical epicardial ablation with endocardial catheter ablation. Cardiac surgeons work in tandem with an electrophysiologist to perform these procedures.
The following Implantable device therapies allow us to monitor and regulate our patients' hearts as they go about their everyday lives.
Neuromodulation Therapy/BAROSTIM THERAPY™ – This is an innovative heart failure therapy in which an implanted device stimulates the body's natural cardiovascular reflexes to relax blood vessels, slow heart rate, and more. This can improve the heart's ability to pump blood to the body and reduce symptoms of heart failure. Inova's heart failure and electrophysiology/heart rhythm teams use this technology when medications aren't enough to manage heart failure symptoms.
Cardiac Contractility Modulation (CCM)/The Optimizer Smart® – This is an innovative heart failure therapy that improves the contraction of the heart – allowing more oxygen-rich blood to reach the body. Inova's heart failure and electrophysiology/heart rhythm teams use this technology when medications aren't enough to manage heart failure symptoms.
Cardiac Resynchronization therapy (CRT) – Newer techniques allow pacemakers to be implanted in special locations that stimulate a patient's heart through its normal electrical pathways. This results in more natural, coordinated heart beats than the traditional implantation technique. These conduction system pacemakers may help to preserve or recover heart pumping function.

Bi-ventricular pacing
Conduction system pacing

Device generator change or replacement
Implantable defibrillator (ICD)

Conventional
Sub-cutaneous defibrillator

Laser lead extraction
Pacemakers

Conduction system
Leadless
Conventional

Sub-cutaneous defibrillator (S-ICD)