2022 Nursing Research and EBP Symposium
Power of the Nurse: Creating, Transforming, and Sustaining Knowledge for Practice
Thursday, September 22, 2022
Virtual Conference (9 a.m. - 3 p.m.)
Registration is FREE
Inova's annual Nursing Research Symposium was created to provide professional nurses with an opportunity to present and learn about research and evidence-based practice to improve patient outcomes. Dynamic sessions will interest nurses with a variety of clinical and research experience.
Event Highlights:
Learn how nurses are using research, evidence-based practice and quality improvement to transform patient care and outcomes
Network with nurses who developed evidence-based practice projects and research
Option to earn up to 5.5 CNE Credits
Keynote Speaker
Molly McNett, PhD, RN, CNRN, FNCS, FAAN
Professor of Clinical Nursing and Assistant Director, Implementation/Translation Science Core, Helene Fuld Health Trust National Institute for EBP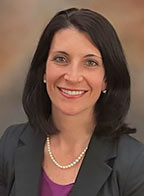 Dr. McNett's research centers on care of critically ill patients after neurological injury. In her work, she leads funded, multi-site, national trials and routinely participates in international trials with diverse research teams. Research contributions include sustained, progressive studies generating evidence to guide interventions for patients after severe neurological injury. Specific work investigates invasive and non-invasive multimodality monitoring techniques for impact on care delivery, patient outcomes, and organizational metrics. Dr. McNett also leads international, interdisciplinary guideline development groups in critically synthesizing the research literature to generate meaningful practice recommendations for healthcare teams.
2021 Attendee Reflections
"By attending this symposium, I am reminded of the important of nursing presence in the area of research and evidence based practice. The nursing fellows who presented today were inspiring and I believe motivated many to examine their home units for potential areas of improvement."
"Every new research idea or proposal is valid and applicable to our practice, profession and ultimately to our patients. As long as there is a passion for an area of research, there will be a way to conduct the research, compile findings and disseminate new knowledge from the 'bench to the bedside'."
"Amazing research done by all. Always interesting and this conference just has a great fun way about it."
"Excellent conference, engaging format even on Zoom. All moderators were articulate and
interesting to listen to."
Continuing Education (CE) Information
Coming soon.