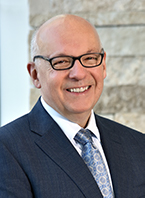 J. Stephen Jones, MD, FACS, is President and CEO of Inova Health System, Northern Virginia's nonprofit healthcare system. A board-certified practicing urological surgeon, he is also a Professor of Urology at the University of Virginia. Inova has received "Straight A" ratings by Leapfrog since 2018, and in 2020 became the first and only large health system in America to have every hospital rated five stars by CMS.
Dr. Jones previously served as president of Cleveland Clinic Regional Hospitals and Family Health Centers. Before that he was department chair and held the Leonard Horvitz and Samuel Miller Distinguished Chair in Urologic Oncology, which has now been renamed the J. Stephen Jones Distinguished Chair, to be held in perpetuity by the sitting Cleveland Clinic Urology Department chair.
He earned a BS in Zoology at the University of Arkansas, his MD at UAMS, and MBA at Case Western Reserve University. After residency at Vanderbilt University, he joined the Springfield Clinic/St. John's Health System in Missouri. Under his chairmanship the Department of Urological Surgery became the highest rated community urology program in America, according to U.S. News & World Report.
Dr. Jones is Editor-in-Chief of the American Urological Association journal Urology Practice and has published over 200 peer-reviewed manuscripts and over 40 book chapters. He has previously been Editor of Urology & Kidney Disease News, Associate Editor for Urology as well as Renal & Urology News, and served on the editorial boards of British Journal of Urology and Urology Times. He has published two books and is editor of five medical textbooks.
Dr. Jones serves on the boards of the American Medical Group Association (AMGA), Greater Washington Partnership, and Northern Virginia Chamber of Commerce.