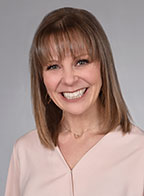 Sage Bolte, PhD, LCSW, CST, FAOSW, is Chief Philanthropy Officer and President of the Inova Health Foundation.
In her role, Sage oversees comprehensive development strategies to welcome philanthropic investments from those in our community who share Inova's passion for advancing world-class healthcare. She partners with the foundation's board of trustees, Inova leadership and team members, volunteers and generous donors to achieve Inova's mission, advance best practices, and cultivate a culture of philanthropy for the entire system.
A respected leader in the field of oncology social work, Sage is nationally recognized for her expertise in sexual health and cancer. She joined Inova in 2004 as an oncology counselor and previously served as Executive Director of Life with Cancer and Patient Experience for Inova Schar Cancer Institute.
Sage has a bachelor of arts in psychology and social work from Hope College and received her master's in social work from the University of Michigan. She was the recipient of a doctoral training grant from the American Cancer Society and earned a PhD in social work from The Catholic University of America in 2010.