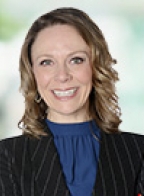 Sage Bolte, PhD, LCSW, CST, is Chief Philanthropy Officer and President of the Inova Health Foundation. She joined Inova over 15 years ago as an oncology counselor and most recently served as Executive Director of Life with Cancer and Patient Experience for the Inova Schar Cancer Institute. She is known nationally for her work in sexual health and cancer and is a respected leader in the field of oncology social work.
As Chief Philanthropy Officer, she works closely with the Board of Trustees, staff, volunteers, and donors to achieve Inova's goals, institutionalize best practices, and establish a culture of philanthropy across the entire organization. She also oversees development strategies, including major and planned gifts, events, and foundation and corporate giving.
Sage received her bachelor's degree in both psychology and social work at Hope College, in Holland, Michigan, and later continued her studies at the University of Michigan, where she received her master's degree in social work. She received the American Cancer Society's Doctoral Training Grant in 2008 and obtained her PhD in social work from The National School of Social Services at the Catholic University of America in 2010.