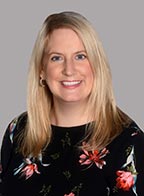 Tracey Schroeder serves as Chief Communications Officer for Inova, leading all aspects of communications and marketing. Her responsibilities are inclusive of internal communications, media relations, digital marketing, service line marketing, social media, and the inova.org website. Tracey is a communications and marketing strategist who works closely with all Inova stakeholders to drive results and engagement in our vision to become one of the leading health systems in the nation.
Prior to joining Inova in 2021, Tracey served as Vice President, Global Consumer Public Relations at Marriott International. In this role, she was responsible for leading public relations for Marriott's 30 brands and consumer facing initiatives across customer experience, digital, experiential and global marketing partnerships. Tracey led the consumer communication strategy for the company's 2016 acquisition of Starwood Hotels and played a key role in developing ideas that brought global marketing partnerships to life for consumers. She also led the communications strategy for the launch of Homes & Villas by Marriott International, marking the company's entry into a non-hotel lodging option.
Previously, she spent five years at Burson-Marsteller as Managing Director, U.S. Brand Marketing, as well as Chief Operating Officer, Proof Integrated Communications. While at Burson, she led programs for Ford Motor Company, The Coca-Cola Company, Nuclear Energy Institute, and the United States Holocaust Memorial Museum. Prior to joining Burson-Marsteller, Tracey served as Senior Account Director at New Media Strategies. There she led the firm's Nestlé business, helping companies launch their first profiles on social media and building integrated communications and marketing programs.
In 2018, Tracey was named to PR Week's 40 Under 40 list. Additionally, Tracey has taught as an Adjunct Professor for Johns Hopkins University's Krieger School focusing on PR in the Age of Digital Influence. She holds a Bachelor of Science degree in Business Administration from the University of Delaware.